Job Description
Job Description
Infrastructure Administrator
Los Angeles, CA
6 month contract to hire
Immediate hire with an amazing company. Successful candidate will be responsible for the support, operation and maintenance of all IT Infrastructure-related matters for company. Will be responsible for implementing and maintaining the servers, storage, systems and network equipment. Ideal candidate will continuously identify and improve the companies Infrastructure. Will be expected to work non-business operational hours as required, and to participate in 24/7 on-call support.
Required Skills:
At least 5 years' experience as Infrastructure Administrator in an enterprise, or 8 years progressive experience leading up to the role.
Experience and knowledge in the corporate Wintel environment, integrating and implementing solutions utilizing virtualization, storage, network and other utilities to support the Infrastructure.
In-depth knowledge of enterprise networks, such as network protocol, VLAN, access control, security, and routing.
Ability to identify and communicate effectively, both in oral and written format, within the IT department, and with other business stakeholders and non-technical people.
Ability to prioritize and effectively manage time in a dynamic IT environment in accordance with company and department objectives.
Be a part of the ConsultNet difference. As a leading national provider of IT staffing and solutions, ConsultNet delivers exceptional services to startup, midmarket and Fortune 1000 companies across North America. Since 1996, we've partnered with clients to create rewarding opportunities for our consultants, successfully building teams that have surefire results.
In the past two years alone, we have placed more than 1,500 consultants in contract, contract-to-hire, or direct placement opportunities. We understand communication is key to finding the right job that matches your skills and career goals. For us, it's not just the work that we do; it's how we do the work. Our breadth of offerings extends to multiple IT positions in major markets throughout the country, see more at -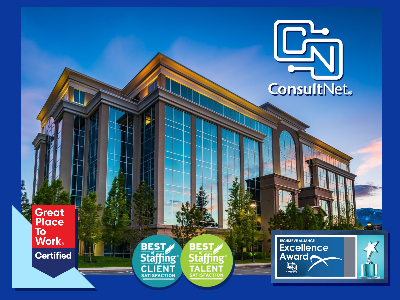 Connect with ConsultNet, LLC