Skills
Engineer
Civil
Engineers
Engineering
IT
Job Description
Job Description
Land Use Planning Engineer (Urban Planning)
Direct Hire
Location Colorado Springs, Colorado
Salary Target $85 - $105KYR DOE
Summary:
Urban Planner for an organization that has been outsourcing this for their civil land projects (commercial and residential). They are at a size and growth trajectory where they will greatly benefit from someone in-house with experience doing Urban Planning. Ideal person would be someone who has done this previously both within civil companies, and within municipalities so they understand what each side goes through when moving through the application and approval processes. Work in close collaboration with the other staff Civil Engineers and Architects. Understand the municipal projects the company is working towards so you can address any concerns in public meeting events. Be the voice and face of the company attending municipal meetings with planning departments, council or commissioner meetings.
Company has made a great name for themselves in both the residential and commercial land development community in their regional area for the last 20 years. Their industry is staying strong and they anticipate it will continue to stay strong for many years of community growth. They are looking for someone to join and be part of their family of employees. Great opportunity for anyone looking to relocate to a busy and yet cozy area of Colorado.
Required Skills:
8+ years experience with Urban Planning for both commercial and residential communities
Experience with larger communities in phased development of 500+ acres
Experience working with local governments
Experience working with local or regional Land Use Ordinances, as well as how to navigate through them and coach others
Urban Planning software experience
Some background with Civil Engineering
Bachelors Degree in Urban Planning, or equivalent civil land development degree
Desired Certifications
Environment:
Spend time in the office working with Civil Engineers gathering data and preparing for presentations to cities / municipalities
Attend local municipal City, County, State meetings associated to land development projects for the company
Everyone has returned back to working out of the company offices as a base, then to client sites.
Smaller 20 person company feel
Be a part of the ConsultNet difference. As a leading national provider of IT staffing and solutions, ConsultNet delivers exceptional services to startup, midmarket and Fortune 1000 companies across North America. Since 1996, we've partnered with clients to create rewarding opportunities for our consultants, successfully building teams that have surefire results.
In the past two years alone, we have placed more than 1,500 consultants in contract, contract-to-hire, or direct placement opportunities. We understand communication is key to finding the right job that matches your skills and career goals. For us, it's not just the work that we do; it's how we do the work. Our breadth of offerings extends to multiple IT positions in major markets throughout the country, see more at - www.consultnet.com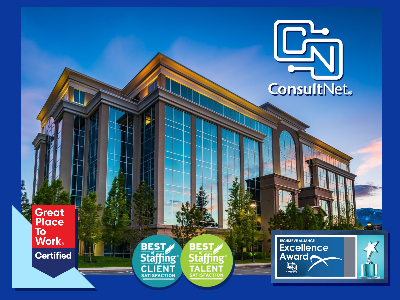 Connect with ConsultNet, LLC