Job Description
Job Description
Manager, Digital Workplace Solutions
Contract to Hire
New York, NY
Wayne, NJ
Morristown, NJ
Hybrid Schedule (3 days onsite)
Job Description:
Our clients is a fast growing commercial and retail bank seeking a Manager of Digital Workplace Solutions to join their growing team. This role is responsible for the development and continuous improvement of Digital Workplace technology solutions to drive technology outcomes to maximize business value from our information technology investments, and unleash overarching innovation for our organization, employees, and customers
Required Skills:
5 to 10+ years of proven professional experience and expertise in information technology management in large financial organizations in support of commercial activities in developed and emerging regions.

He/she will be used to serving demanding industries, driven by technology and innovation with constraints imposed by various regulatory bodies and security.
He/she will have demonstrated ability to select, train, develop, manage and lead teams.
This leader must have the skills, experience and agility to influence people and organizations, including executive management. This leader will also share a common set of characteristics that drive innovation and value for our customers.

5 to 10+ years in applied technical support of complex multi-vendor environment, focusing on the Digital Workplace excellence and optimization.
Strong business acumen, process management and vendor management skills and experience.
Proven track record of leading project teams.
Extensive experience in vendor interaction, negotiation and management.
Ability to focus/align organization around critical initiatives, best practices and guiding principles.
Excellent communication skills, analytical ability, strong judgment, and the ability to work effectively with clients, senior management, staff and vendors.
Experience in banking industry would be beneficial but not required.
ITIL Certification
Bonus Skills:
As the Manager of Digital Workplace Solution, he/she will possess:
Presence and business acumen to win the hearts and minds of IT and business leaders
Ability to generate trust, build alliances across the organization, and orchestrate interdisciplinary teams to the benefit of customers
Situational awareness to adapt and solve challenges from a business and technology perspective
Ability to balance strategic thinking with pragmatic operational delivery
Empathy, curiosity, desire to constantly improve, acquire new skills and drive for results
An excellent team builder and talent developer
Proactive, takes the initiative to make things happen
Confident and self-aware with excellent interpersonal and communication skills, both written and verbal
Be a part of the ConsultNet difference. As a leading national provider of IT staffing and solutions, ConsultNet delivers exceptional services to startup, midmarket and Fortune 1000 companies across North America. Since 1996, we've partnered with clients to create rewarding opportunities for our consultants, successfully building teams that have surefire results.
In the past two years alone, we have placed more than 1,500 consultants in contract, contract-to-hire, or direct placement opportunities. We understand communication is key to finding the right job that matches your skills and career goals. For us, it's not just the work that we do; it's how we do the work. Our breadth of offerings extends to multiple IT positions in major markets throughout the country, see more at -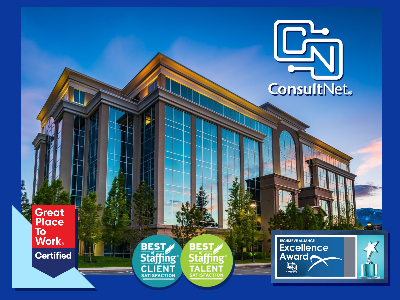 Connect with ConsultNet, LLC