Skills
Director
IT PMO
PMLC
SDLC
PPM
Program Management
Insurance
Job Description
We are seeking a Director, IT Project Management Office to join our Information Technology team in our Purchase, NY, Florham Park, NJ, Charlotte, NC, Conshohocken, PA or Mt. Juliet, TN office.
The Director, IT Project Management Office will be responsible for the successful delivery of all IT projects and programs, and management of the IT project portfolios. This includes working with project managers and IT teams to execute projects, manage financials and align deliveries to expected business outcomes.
Oversee project management execution of the IT project portfolio.
Manage a team of project managers, supporting them in successful delivery of their projects.

This includes allocating resources, providing guidance, direction, deliverables reviews, and serving as an escalation point on projects as needed.

Enforce the adherence to established PMLC and SDLC processes.

Provide related information to audit as needed.

Perform project management responsibilities on key projects and programs as needed.
Identify, analyze and mitigate project and portfolio risk
Monitor the results, effectiveness, and overall quality of the project services offered
Lead efforts to continually improve the "return on investment" of technology projects.
Make judgments regarding the ongoing viability of a project plan based on ability to deliver upon agreed functionality within approved budget, schedule and scope
Manage project portfolios as needed.

Ensure project deliveries and spend align with business objectives and estimated return on investment

Review PMLC and metrics package regularly for revision and improvement.

Make and enforce the improvements.

Provide accurate, concise and meaningful portfolio reporting to IT and business team stakeholders on a regular basis
Manage portfolio financials, address any spending issues.
Support staff in their career development including performance management, coaching, training and mentoring
Provide input into and supporting data for strategic IT decisions
Prioritize work in alignment with project management practices, business goals, organizational set strategies and objectives
Qualifications, Skills & Experience
Bachelors or master's degree in computer science or a related field
15+ years of experience in IT project and program management, including managing large-scale IT projects or programs of significant complexity, value and risk
10+ years of experience managing an IT project management office
Insurance industry experience is required
Exemplary core program and project management skills
Excellent stakeholder management and influencing skills, capable of balancing multiple perspectives, effective at all levels up to senior executive
Sound business and technical acumen, with demonstrated agility in learning and ability to quickly become comfortable with unfamiliar businesses areas or of technologies
Ability to connect programs/projects to broader organizational goals and grasp the key performance drivers of business partners
Expert presentation, written and verbal communication skills
Excellent problem-solving and critical-thinking skills to recognize and comprehend complex issues, policies, requirements and industry information affecting the business environment.

Seeks opportunities to improve business outcomes

Solid knowledge and expertise in the use and enforcement of program management methodologies.

Expert, hands-on experience using PPM tools.
Salary Range: $165,000– $210,000 Actual compensation for this role will depend on several factors including the cost of living associated with your work location, your qualifications, skills, competencies, and relevant experience
At Sompo International, we recognize that the talent, skills, and commitment of our employees drive our success. This is why we offer competitive, high-quality compensation and benefit programs to eligible employees.
Our compensation program is built on a foundation that promotes a pay-for-performance culture, resulting in higher incentive awards, on average, when the Company does well and lower incentive awards when the Company underperforms.  The total compensation opportunity for all regular, full-time employees is a combination of base salary and incentives that gets adjusted upfront based on overall Company performance with final awards based on individual performance.
We continuously evaluate and update our benefit programs to ensure that our plans remain competitive and meet the needs of our employees and their dependents.  Below is a summary of our current comprehensive U.S. benefit programs:
Two medical plans to choose from, including a Traditional PPO & a Consumer Driven Health Plan with a Health Savings account providing a competitive employer contribution.
Pharmacy benefits with mail order options.
Dental benefits including orthodontia benefits for adults and children.
Vision benefits.
Health Care & Dependent Care Flexible Spending Accounts.
Company-paid Life & AD&D benefits, including the option to purchase Supplemental life coverage for employee, spouse & children.
Company-paid Disability benefits with very competitive salary continuation payments.
401(k) Retirement Savings Plan with competitive employer contributions.
Competitive paid-time-off programs, including company-paid holidays.
Competitive Parental Leave Benefits & Adoption Assistance program
Employee Assistance Program
Tax-Free Commuter Benefit
Tuition Reimbursement & Professional Qualification benefits.
Sompo International is an equal opportunity employer committed to a diverse workforce. M/F/D/V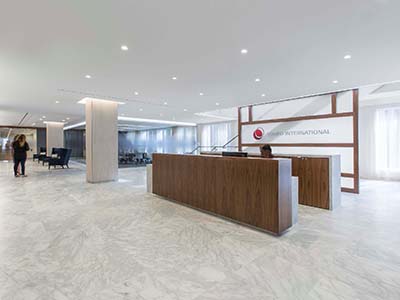 Connect with Sompo International