Skills
Technician
PC
IT
Help Desk
Desktop
Computer
Network
TCP
IP
Job Description
Job Description
Level 2 Support Tech
Salt Lake,
6 Month Contract to hire
$21.00 to $30.00 per hour
Job Description,
Our client is currently seeking a Level 2 Technician to work in our network operations. The candidate must be familiar with the windows environment and able to troubleshoot common PC and network problems. They will resolve IT related issues for our clients' customers business and set up workstations and interact with customers at the customers' site.
Required Skills
Help Desk and Desktop Support- Provide technical assistance and support to our customers via the phone and email and onsite
Microsoft windows operating system
Computer, Network + certification
Server and Hyper-V experience
Ensuring all incidents received are tracked, escalated, and resolved in line with internal support procedures.
Set up new equipment
Backup and recovery
Customer facing experience
Nice to have
Excellent time management, decision making, prioritization and organization skills
Working knowledge of networking protocols (TCP/IP), networking infrastructure
Working knowledge of antivirus and firewall solutions
Be a part of the ConsultNet difference. As a leading national provider of IT staffing and solutions, ConsultNet delivers exceptional services to startup, midmarket and Fortune 1000 companies across North America. Since 1996, we've partnered with clients to create rewarding opportunities for our consultants, successfully building teams that have surefire results.
In the past two years alone, we have placed more than 1,500 consultants in contract, contract-to-hire, or direct placement opportunities. We understand communication is key to finding the right job that matches your skills and career goals. For us, it's not just the work that we do; it's how we do the work. Our breadth of offerings extends to multiple IT positions in major markets throughout the country, see more at -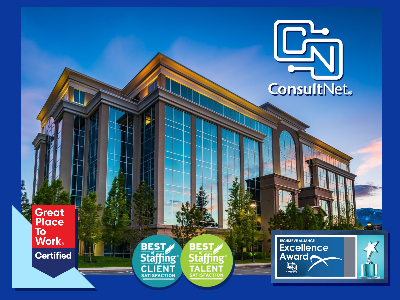 Connect with ConsultNet, LLC