Job Description
Address:
USA-IL-Chicago-300 South Riverside Plaza
Store Code:
Office Of CIO - Project Managment (5119392)
Retail Business Services, ranked No. 25 on Fast Company's 2022 100 Best Workplaces for Innovators, is the services company of leading grocery retail group Ahold Delhaize USA, currently providing services to five omnichannel grocery brands, including Food Lion, Giant Food, The GIANT Company, Hannaford and Stop & Shop. Retail Business Services leverages the scale of the local brands to drive synergies and provides industry-leading expertise, insights and analytics to local brands to support their strategies. We are committed to diversity, equity and inclusion and we foster a community of belonging where everyone is valued.For more information, visit https:// www.retailbusinessservices.com .
Primary Purpose:
This role is responsible for managing and delivering the annual investment portfolio for IT. They will also be responsible for delivering a portfolio of projects and programs working with the solution delivery/engineering teams. They lead a team of internal and external Project/Program managers and scrum masters to provide project delivery and execution by leveraging the processes, technology, tooling, and governance needed to achieve quality deliveries and attain business value.
Duties & Responsibilities:
Effectively plan, organize, and direct the completion of large, complex portfolio of projects while managing risks and issues to minimize scope, budget, and schedule impacts
Act as single point of contact for managing a portfolio of projects working with the solution delivery Vice Presidents: building synergies between unrelated/related projects or programs, aligning strategic business objectives, increasing business value through people management, change control, risk management, and resource management
Anticipate and aggressively remove obstacles that slow down progress, escalate and mitigate risks/issues to multiple levels of management, including executive leadership teams across the organization
Partner with solution delivery/engineering teams to drive program planning and delivery for both waterfall and agile projects
Ensure compliance to project delivery methods, tools, framework, and IT controls.
Partner with the IT Budget Management team to actively manage and deliver the financial commitments for an investment portfolio of $40-$60M. Partner with finance, project teams, and value stream owners to ensure all financial cadences (e.g., quarterly budgeting cycles, month-end closings, etc...) are supported by and aligned to portfolio financials
Partner with the IT Release Management function to identify interdependencies and risks across the IT project portfolio.
Create and maintain portfolio resource plans (in coordination with resource managers) that account for all resource capacity and utilization across the IT function while informing internal capitalization projections
Manage supplier performance to ensure that contractual agreements are met
Key partner for change management to support building an organizational readiness and change management plans to successfully execute new initiatives
Monitor portfolio health through OKRs and portfolio metrics and financial status against relevant constraints, including strategic investment guidance, portfolio budgets vendor contracts, and operating budgets.
Apply concepts of Lean Portfolio Management, driving a focus on driving the delivery of value to customers through the creation of products and solutions
PMO Maturity, Process & Tools:

Execute upon and contribute to process improvements and best practices across PMO to support delivery excellence
Actively drive the transformation of waterfall projects to agile

Support the agile/scrum teams to effectively follow agile methodology
Lead and inspire IT teams in project & program management to develop and establish a high performing, service driven culture committed to failing fast, leaning out waste, and delivering business value
Qualifications:
Bachelor's degree in relevant field
10+ years practical experience at varying levels of project/program management
Project management certification a plus, but not required. Emphasis is on demonstrated use of PMP, Scrum, Agile, etc.
Working knowledge of agile methodology and agile tools (Jira)
Thorough understanding of enterprise software development lifecycle; ability to adjust and apply this knowledge in a dynamic environment using agile methodologies
Bring a data-driven approach to decision making, both in day-to-day activities and when helping others make strategic trade-offs
Self-starter with the ability to lead teams through ambiguity to solve problems and drive results
Strong organizational, communication, interpersonal, relationship-building skills conducive to collaboration; able to work well in a cross-functional environment
Excellent analytical and problem-solving skills with a history of hands-on, detail orientated
Ability to establish credibility and rapport with senior executives and technical and non-technical team members alike
Financial Acumen

Interpreting and applying understanding of key financial indicators to make better business decisions
Understands the meaning and implications of key financial indicators
Uses financial analysis to generate, evaluate, and act on strategic options and opportunities

Communicates Effectively - Developing and delivering multi-mode communications (verbal and written) that convey a clear understanding of the unique needs of different audiences
Collaborates - Building partnerships and working collaboratively with others to meet shared objectives
Preferred Qualifications:
3+ years as a Scrum Master
Experience with lean portfolio management
Experience with transforming from waterfall to SAFe
SAFe certification
Proficiency working in and managing agile, SAFe, scrum teams (scrum of scrums), lean teams
Experience delivering projects in retail industry
#DiceJobs #LI-AD1 #LI-hybrid
Retail Business Services is an equal opportunity employer. We comply with all applicable federal, state and local laws. Qualified applicants are considered without regard to sex, race, color, ancestry, national origin, citizenship status, religion, age, marital status (including civil unions), military service, veteran status, pregnancy (including childbirth and related medical conditions), genetic information, sexual orientation, gender identity, legally recognized disability, domestic violence victim status or any other characteristic protected by law. We provide reasonable accommodations to applicants and employees with disabilities. As important as what we do is how we do it. Our team embodies our values of Courage, Care, Teamwork, Integrity and Humor in everything that they do. We have a culture of care that values and celebrates the qualities and perspectives that make us all unique.
If you have a disability and require assistance in the application process, please contact our Talent Acquisition Department at tad@retailbusinessservices.com.
Job Requisition: 284427_external_USA-IL-Chicago_1102023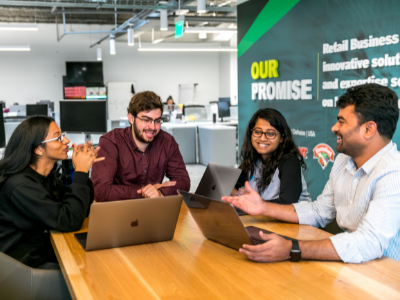 Connect with Retail Business Services