Skills
Mechanical
Engineer
Engineering
Micro
IT
Job Description
Job Description
Senior Mechanical Engineer Manufacturing Environment
Ogden, Utah
Direct Hire Target $90k - $120k base salary
Job Summary:
The role of the Mechanical Engineer would be to participate in designing mechanical systems for air handling systems within the aerospace industries. They company creates devices used in the airplane industries which provide power when the aircraft are shut off as well as starting up. Both for civilian and military aircraft.
This role will also be working on either the structures or heating / ac team or both. Experience with refrigeration systems with 410A sizing compressors, heat rejection evaporator coils and condenser coil both fin & tube and Microchannel will help you stand out in this role.
This role will need to work in Utah with occasional travel to client installation locations.
Required Skills:
7+ years Mechanical Engineering experience
7+ years Mechanical Design - including structures
Manufacturing Experience
Engineering and Design refrigeration experience should include:

410A
Size Evaporators
Blowers
sizing compressors
heat rejection evaporator coils
condenser coils
Fin and Tube and Micro-channel

NEC and UL Codes
Bachelors Degree Mechanical Engineering
*Criminal Background check and drug screen prior to start
Bonus Skills:
Siemens NX design software
PE License
Experience working with mechanical refrigeration systems for military aircraft
Be a part of the ConsultNet difference. As a leading national provider of IT staffing and solutions, ConsultNet delivers exceptional services to startup, midmarket and Fortune 1000 companies across North America. Since 1996, we've partnered with clients to create rewarding opportunities for our consultants, successfully building teams that have surefire results.
In the past two years alone, we have placed more than 1,500 consultants in contract, contract-to-hire, or direct placement opportunities. We understand communication is key to finding the right job that matches your skills and career goals. For us, it's not just the work that we do; it's how we do the work. Our breadth of offerings extends to multiple IT positions in major markets throughout the country, see more at -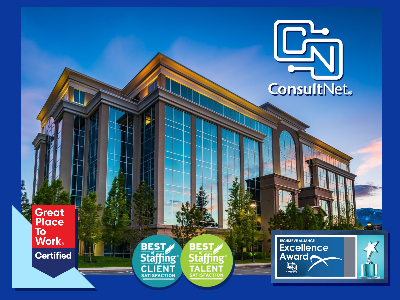 Connect with ConsultNet, LLC