Knowledge Center
---
Hearing about the wrong types of jobs?
Updated December 7, 2022
---
Let us help!



As a trusted partner in your career advancement, Dice is here to help you represent your expertise and your detailed preferences for your next job the best you can to employers. If you are being contacted about jobs that aren't relevant, double-check that your profile is up-to-date. If you are still receiving irrelevant results, please email us with examples at techsupport@dice.com.
If your profile is visbile, our Dice Private Emale feature masks your email address for added privacy. Additionally, if an employer contacts you via email, our "I'm Not Interested" button allows you to provide feedback about specific opportunities so we can bring you more valuable job listings.
You also have the option to block certain recruiters and companies, if needed.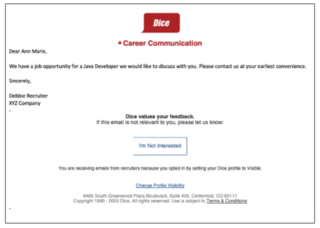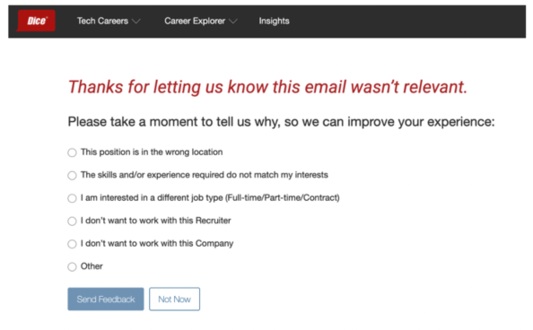 You then also have the option of blocking certain recruiters and companies that consistently reach out about irrelevant opportunities.

Questions? Issues? Contact Product Support anytime by emailing techsupport@dice.com.
Prefer to talk on the phone? Call us Monday-Friday, 8am to 5pm CST at 888-321-3423.