Knowledge Center
---
How do I increase my visibility with employers?
Updated December 7, 2022
---
Your candidate profile is the first impression you make for the thousands of employers who search Dice.



Here are a few tips for how you can get more views and potentially make a better match with an ideal employer:

Log in Often — The more you log into your account, the higher your chance to show up in employer searches. It's a simple way to increase your visibility.

Stay Active — When you log in, take a moment to freshen up your profile – add info into any missing fields, update your preferences, tweak your resume, add a new skill you've learned. Show employers that you are career minded by updating your candidate profile.

Make Sure Your Resume and Profile are Current and Complete — If you're not getting contacted by employers - or you're getting contacted by employers about the wrong types of jobs - maybe your resume is not a great match for the types of positions you're looking for. Or search job listings of interest, and see what skills are required or requested – and then make sure you have those skills listed in your profile and on your resume. Also, remember that location is key to many employers. If you're willing to relocate, be sure to indicate that. If you're looking for a job in a specific area, make sure that's noted on your profile.
Connect with Employers through Instant Messaging — To start a chat with a recruiter, access their profile via a job post or link provided by the recruiter. On the top right of their profile, you'll see a blue "Send a Message" button. From there, you can initiate conversations with recruiters.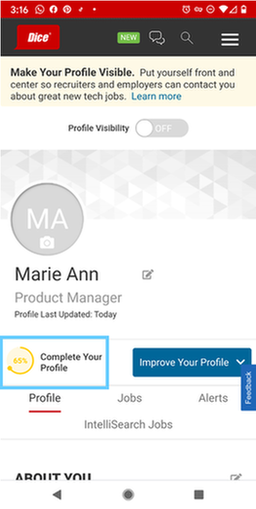 Questions? Issues? Contact Product Support anytime by emailing techsupport@dice.com.
Prefer to talk on the phone? Call us Monday-Friday, 8am to 5pm CST at 888-321-3423.