Job Alerts allow you to get regular emails sharing exactly the types of jobs you are looking for.

Once you set them up, Job Alerts run automatically for you, unearthing new matching jobs and notifying you either daily or weekly so you'll discover great opportunities as fast as possible – and before other candidates find and apply to them.
To set up a new job alert:
Perform a Job Search with the keywords, job title, and/or company for the jobs that interest you.
Apply any filters to refine your results as desired.
At the top of the search results, use the banner labelled Email me jobs for this search.



Enter a name for this saved search in the textbox to help you recall this Save Search, and click Email Jobs.
If you're not signed in, you'll be prompted to Log in or Register to finish setting up the alert.

If you want to make changes to a job alert that you already created, use the Manage Alerts page.
We also recommend you also set up our new IntelliSearch personalized job alerts based on your profile. You can do this when setting up your profile by checking the option "I'm interested in getting job alerts that match my profile" before clicking Save your profile. If your profile is already set up, you can enable IntelliSearch Alerts from the top of the Alerts settings page. Any updates you make to your profile will automatically improve the relevance of these job alerts.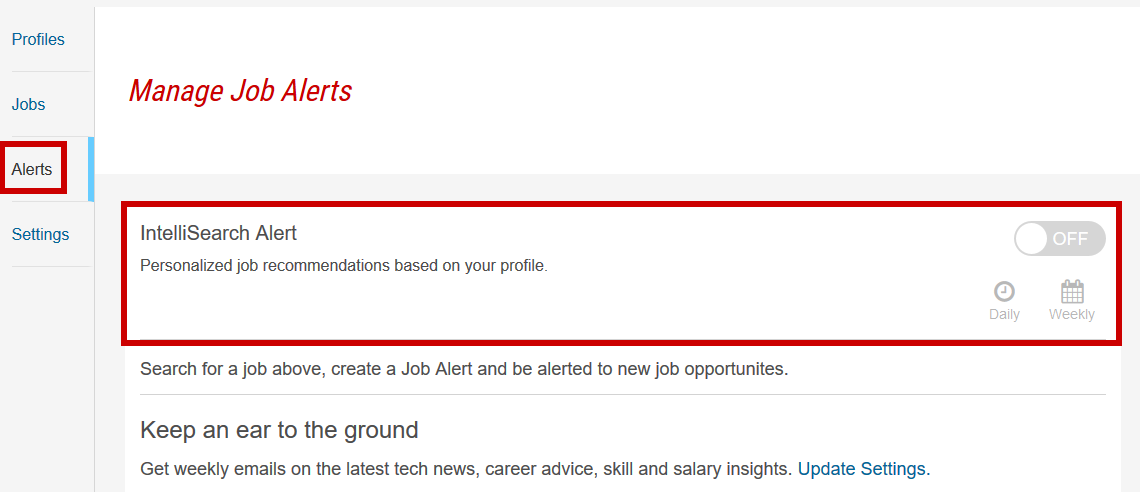 Finally, you can also set up a Job Alert from any job you've found to learn about other jobs similar to that one – just click the Create Alert button from any job detail page.



Questions? Issues? Contact Product Support anytime by emailing techsupport@dice.com.
Prefer to talk on the phone? Call us Monday-Friday, 7am to 6pm CST at 888-321-3423.