Knowledge Center
---
How do I manage and update my jobs?
Updated June 15, 2021
---
Jobs management is a key component to ensure you get the most out of your postings.
Viewing
Actively monitoring your job posts allows you to review the status of your posting and quickly act on applications. You can view your open positions from your Manage Jobs page by:
Log into Dice at www.dice.com/employer. On the top left of the page, click Jobs and select Manage Jobs, which defaults to your active jobs.




You can filter your jobs by Active, Inactive, Archive, or All if you prefer.


You can also sort by Last Posted (default) or Expires.


Use the Actions button at the top right or right-click on a job card to change the status of any job.



TIP: Get to candidates NOW! – On the Manage Jobs page, in the TalentSearch column, click the hyperlinked number to quickly access candidates found matching your job posting.

Editing
If information in your job post has changed, we recommend updating it so that you connect with the most relevant candidates. Editing a job post is simple:
On the Manage Jobs page, locate the job by using the Status View options or search fields.


Right-click the job and select Edit.



Make the necessary edits

.


When finished, you have three options to save your edits:

Post as Active

(you'll need available credits or slots to actively post a job)




Save as Inactive




Save & Preview





TIP: Make Data Driven-Decisions – Use the Job Detail Views (number of times the job has been viewed by candidates) numbers in comparison to applications to decide which postings need to be reviewed and edited.

For more details on optimizing job post content, we recommend reading "6 Ways to Optimize Search Results for Your Job Posting."


Inactivating
If you need to inactivate a job post before it automatically expires, you can do so by:
On the Manage Jobs page, locate the job by using the Status View options or search fields.

Right-click the job and select Move to inactive.
OR - Click in any of the white space on a job card to select it. Click multiple cards to select multiple jobs.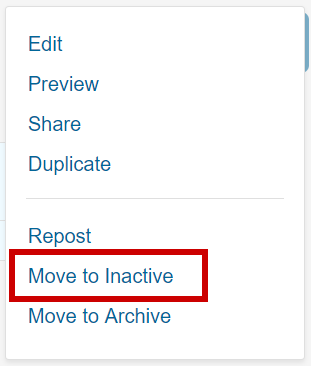 3. The inactivated jobs can then be found under the Inactive folder.
Should you want to explore our products for additional job posting enhancements, sourcing services, branding services and more, please reach out to your Sales Representative or call 1-800-979-DICE.

Questions? Issues? Contact Product Support anytime by emailing support@dice.com.
Prefer to talk on the phone? Call us Monday-Friday, 8am to 5pm CST at 888-321-3423.