Knowledge Center
---
Dice's Best Practices for Communicating with Candidates via Email
Updated April 1, 2022
---
Dice is focused on building mutual trust between employers and candidates.

Utilize these steps to help craft a quality email for the candidates you want to engage with.

1. Tailor Communication to the Candidate
Make sure the job fits the candidate by ensuring:

The skill set of the job matches their current skills or a position they expressed a desire to be in.

The location matches the candidate's current location or location they have expressed a desire to relocate to.

The employment type matches what the candidate has indicated they are looking for (full time, part time, contract, etc.)

Avoid copying and pasting the same email for every single candidate. Make each email fresh!



2. Keep it Professional
Ensure your email contains proper grammar and no misspelled words. Grammar and typos often cause reports from candidates as suspicious or fake/phishing.

Your email must include all relevant information about the position and the job title.
Ensure each email contains the following:

A greeting

A closing

Unsubscribe link

Company name

Your job

title



3. Avoid these Problematic Behaviors
Frequency from the same company, not necessarily the same recruiter, is the most common complaint. Be sure you are not sending multiple emails to the same candidate. This may require coordination with other recruiters within your company.

Spamming is monthly and weekly over-contact with a low open rate (under 20%) and a low reply rate.

Due to heightened security awareness and concerns, candidates are more likely to report communications that ask for personal information sooner than necessary.

A client can legally request the last 4 digits of a social security number and DD/MM for the purposes of a background check.

Asking for this type of information on the initial email contact is often reported by candidates.

The title of your email should be an accurate representation of the content.

Don't change the title to send out an email that has previously been sent. This tactic is commonly used when trying to circumvent specific ATS failsafe's that would stop from sending the same email multiple times to the same candidate.

Do not add "RE:" in the subject line of a new email to make it appear as a continuation of an existing conversation.

Email communications should adhere to all state and federal guidelines regarding jobs.

For example, jobs in Colorado and New York must provide the salary information.

Do not send candidates discovered through Dice jobs that have been pulled from other sites.

Sample Email: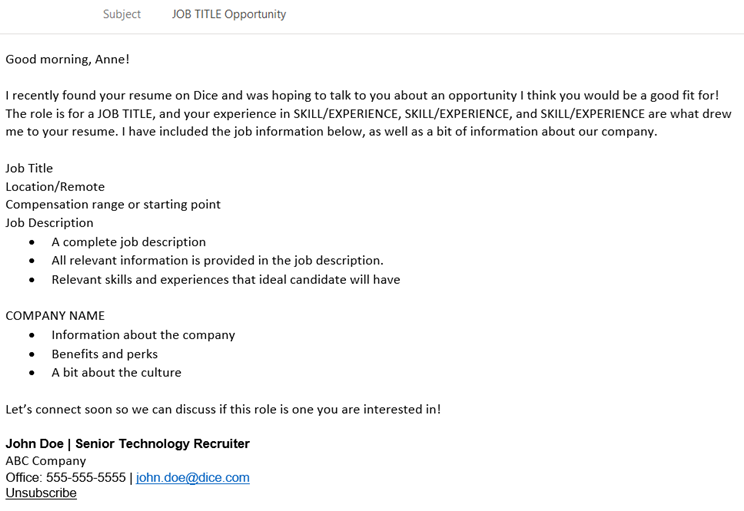 Questions? Issues? Contact Product Support anytime by emailing support@dice.com.
Prefer to talk on the phone? Call us Monday-Friday, 8am to 5pm CST at 888-321-3423.