Knowledge Center
---
Search | Conflicts Between a Resume Email Address and Dice Private Email
Updated November 16, 2021
---
We originally released Dice Private Email on April 7, 2020 which will change the email addresses you see for all Dice Candidates.


Dice Private Email is our next level of privacy protections for Dice candidates. Dice candidates who make their profile Visible will have their personal email address hidden and replaced by a Dice-generated email address.
Just as you can today, Dice allows you to quickly contact your preferred candidates—and faster than other recruiting solutions—using your preferred method, whether you're using the Dice platform, your preferred email platform or by phone call.
How does Dice Private Email work?
All Visible candidates on Dice will have their personal email address hidden and replaced by a Dice-generated email address.
When you send an email or view a candidate in TalentSearch, the candidate's email address will look like abc-123-xyz@mail.dice.com (it's different for every employer).
Your email to the candidate will also come from a Dice-generated email address.
Emails you send to that email address will be routed directly to their preferred inbox so that candidates receive your emails the same as they have when you send to a personal email address. They can also reply directly to you through the Dice-based email they see from you.
Each company will see a unique Dice-based email address for a candidate, but that email address will be consistent for the recruiters within your company.
Dice verifies in advance that the email address is deliverable to each candidate.
The emails between you and Visible candidates will include the Dice logo so that each party knows the email is legitimate.
We've also implemented a feedback mechanism for candidates, which will help you understand how well you're targeting by position, location, and work type.
We've implemented Dice Private Email to build mutual trust between employers and candidates. We believe this will encourage candidates to make their profiles Visible, keep them Visible, and update their profiles with additional skills and experience—leading to an industry-leading database of skilled technologists!
Why might an email address in a resume and differ from that I see in TalentSearch?
As part of our April 7, 2020 launch of Dice Private Email, we do not remove the email address from the Candidate's resume. If a candidate does not remove their email address from their resume, a TalentSearch user can see this discrepancy. Please note this before you report a candidate's profile as being suspicious.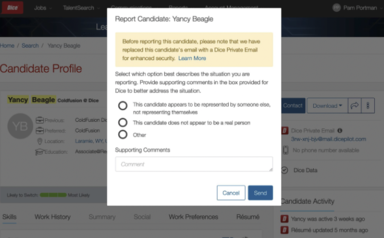 Questions? Issues? Contact Product Support anytime by emailing support@dice.com.
Prefer to talk on the phone? Call us Monday-Friday, 8am to 5pm CST at 888-321-3423.