We released Dice Recruiter Profile on June 16, 2020.

We're excited to announce the first major release in Dice's transformation from a job board to full-scale career marketplace: Dice Recruiter Profile.

How does this functionality fit into our product strategy?
With Dice Marketplace, we're creating a trusted place where recruiters and candidates can confidently search, match and communicate in real time. Dice Recruiter Profile launches that evolution by allowing clients to enrich their profiles with photos, personal information, details about corporate brand and culture, news and latest hires, upcoming events and future hiring needs—all of which create more transparency and personalize the recruiter behind the role.

For candidates, they can now discover the recruiters who are open and transparent before they engage​ with job posts or respond to outreach; identify their ideal tech focus by seeing what other roles a recruiter posts​; and learn about an employer's expertise by reading a recruiter's latest news and upcoming events.

What's New?
Any client who posts jobs on Dice or sources through TalentSearch now has a customizable profile. Candidates can view details about an individual recruiter and a recruiter can personalize their profile. This allows for:
Enriched profile capabilities:

Post a profile and cover photo

Add contact information ​

SRC: describe areas of strength and expertise​

Commercial: share company culture and values

Share latest news, wins, and events

Showcase live job posts

Ability to link the Recruiter Profile to any jobs posted to increase visibility.

Ability to share the Recruiter Profile when sourcing candidates to show the recruiter behind the role.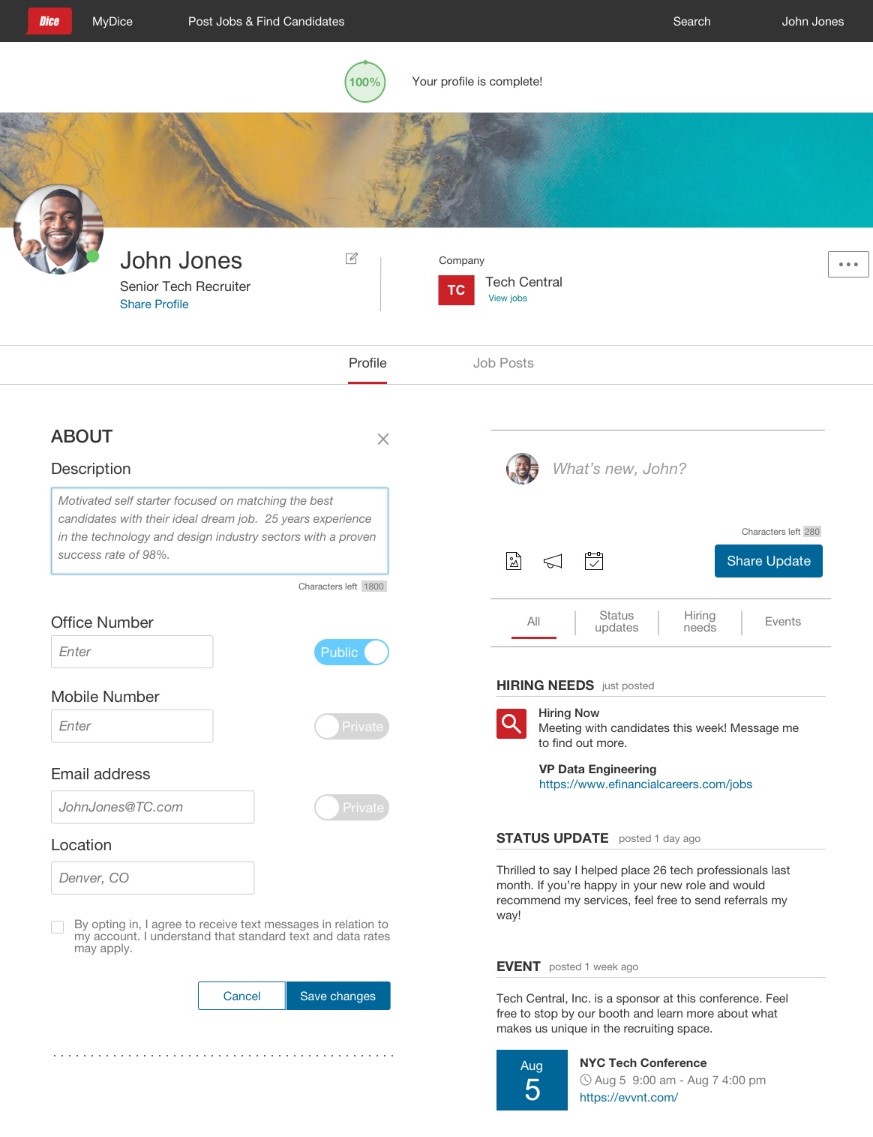 Questions? Issues? Contact Product Support anytime by emailing support@dice.com.
Prefer to talk on the phone? Call us Monday-Friday, 8am to 5pm CST at 888-321-3423.