Knowledge Center
---
Apply Smarter with Dice Match
Updated December 2, 2022
---
Dice Match is Dice's latest innovation using intelligent automation and machine learning to help you find the tech jobs you are most qualified for. Our Dice Match technology goes beyond traditional keyword matching by leveraging machine learning, fed by job data and expertise from tech recruiters to provide you with the best match.
Benefits:
Save time by finding and applying to the most relevant jobs

Understand your compatibility with a job at a quick glance
Identity areas of opportunity to improve your profile and resume based on your skills and experience score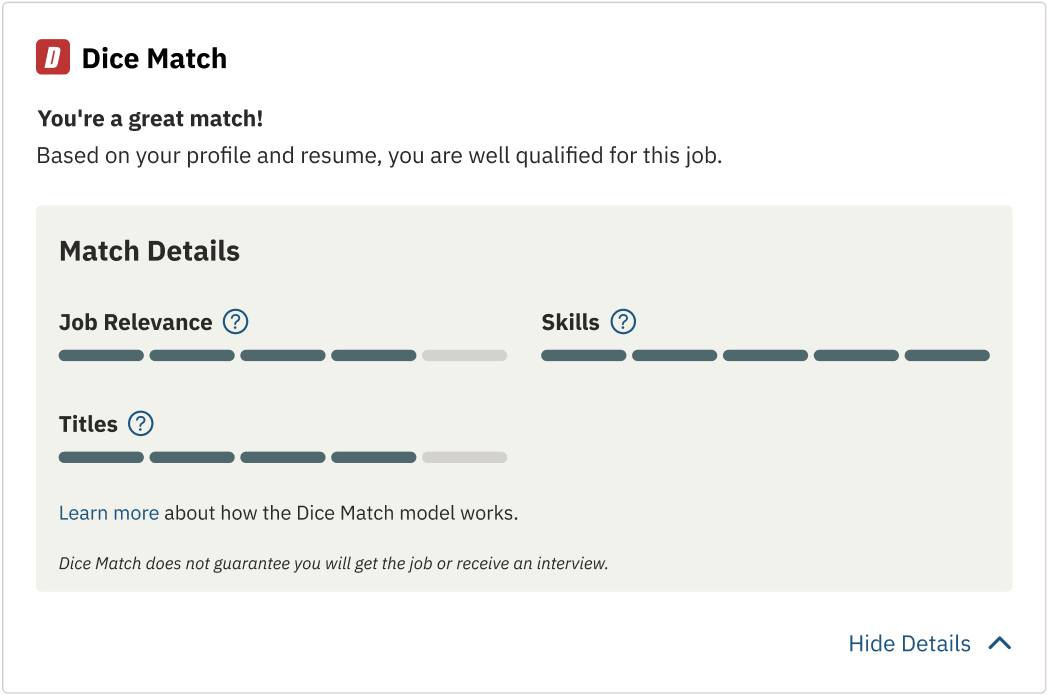 Dice Match FAQs

What is Dice Match? Dice Match is a way to quickly understand how well you may qualify for a given job. Our Dice Match models analyze your qualifications for a job based on your experience and how well it aligns with the job requirements.

How is my Dice Match score calculated? We have analyzed millions of tech job postings over the years to build and calibrate our Dice Match models. Our robust tech skills taxonomy uncovers relationships among skills and titles to determine the match— including identifying and differentiating skills and titles based on the text in the job post. The more your information aligns with the job post, the stronger the match. Additionally, our models continuously improve their accuracy by leveraging thousands of data points and expertise from tech recruiters, HR professionals, tech professionals, and tech hiring managers.

What are the different Dice Match scores? Excellent Match, Great Match, Good Match, Fair Match, and Poor Match.

How does Dice Match measure my skill level? Our Dice Match models factor in all the skills found on your profile and resume and compare them to the job description in order to calculate your overall score. You can improve your score by adding more skills to your profile and ensuring your resume is up to date.

How accurate is Dice Match? Our Dice Match models are currently over 96% accurate compared to how human experts would judge a candidate's qualification for a job. Additionally, we are continuously adding additional criteria to the algorithms to improve the accuracy of the models.

Are the Dice Match models biased? The models do not factor in any demographic information, and we remove all personal identifiable information (PII) before the models calculate a match score. We also regularly measure our models for bias (age, gender, race, etc.), and a recent study of our models shows no evidence of perpetuating gender bias.

How does my Dice Match score improve over time? Every time you receive a Dice Match score, it is based on your current profile and resume. If you update your profile and resume and then look at a different job, our models will use a different snapshot to recalculate your score.

Can I sort job posts by Dice Match score? This feature will become available in the near future. Ensure your email notifications on your Profile settings are turned on to receive the latest product updates.

Can I set up job alerts based on Dice Match? No, but you can set up job alerts through IntelliSearch, which will show Dice Match scores in the future.

Can employers see my Dice Match score? No. You are the only one who can see your Dice Match score for a given job.

Will my application still be viewed if my Dice Match score is low? Yes, your application will still be viewed. Dice Match scores have no determining weight when you apply to a job, and employers are unable to filter out lower match scores. The goal of your Dice Match score is to help guide you in determining how qualified you are for a given job.

Are employers required to input all the components that go into Dice Match scoring? Yes, employers are required to input skills, titles, and location as a part of the job description. Additionally, our algorithms predict the relationship between your current and past titles and the job description title by mapping them through our proprietary Dice Knowledge Graph.

What is Dice Knowledge Graph? The Dice Knowledge Graph is a way to structure and organize the data from your profile and resume through a network of interlinked/connected concepts. This type of knowledge model provides the situational and ever-changing context that is often missing from data, allowing our algorithms to better interpret and encode the data in order to create a more accurate and confident Dice Match score.

Job titles vary from company to company. Do titles have to be a direct match in order to receive a high score? No. We understand that companies have diverse names for their job titles and have accounted for these differences in our models.

Should I contact Support if I believe there is a discrepancy with my Dice Match? No, if you believe there is a discrepancy, you can update your profile to recalculate your Dice Match. We will also be adding a feedback mechanism in the future so that your input will directly improve our Dice Match models over time.

Can I opt out or hide my Dice Match? No, there is no option at this moment to hide your Dice Match score.
Disclaimer: A great Dice Match score does not guarantee you will receive an interview or get a job.

Questions? Issues? Contact Product Support anytime by emailing techsupport@dice.com.
Prefer to talk on the phone? Call us Monday-Friday, 8am to 5pm CST at 888-321-3423.