Knowledge Center
---
Tools | Instant Messaging
Updated June 15, 2021
---
Stay connected and boost your job search.
Instantly communicate with employers and recruiters through your Dice account.

What's in it for you
Transparent conversations with recruiters - Get to know the recruiters behind your dream jobs and help them get to know you

Speed up your job search - Discover relevant recruiters and directly connect from their profile

Gain visibility and stand out to recruiters - Cut through the clutter and amplify your personal brand


Initiating an instant message
To start a chat with a recruiter, access their profile via a job post or a link provided by the recruiter.



On the top-right of the recruiter's profile, click the blue Send a message button.



This opens the Message Center, where you can engage with recruiters you're interested in.


Reviewing messages
The message icon on the top-right navigation bar will indicate you have unread messages. The Message Center is where you can chat instantly with recruiters as well as review and take action on message threads.
On your Home Feed, you will see a messages widget showing any unread messages. Clicking on either the messages widget or the messaging icon on the navigation bar will redirect you to the Message Center.

Note: If you dismiss this widget, it won't show up again until 12 hours later, even if you have a new message.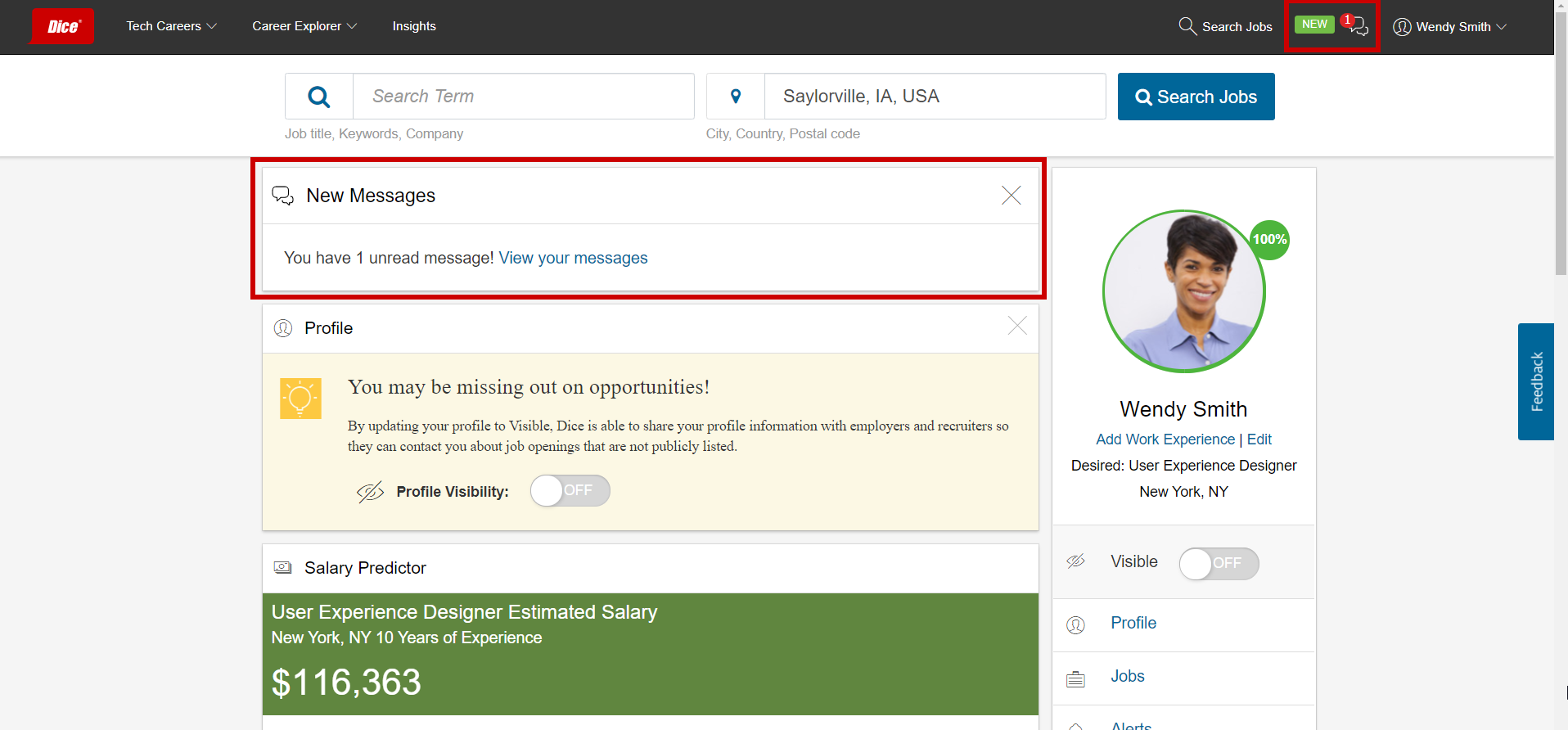 Conversation threads will be listed on the left with the full conversation displayed on the right.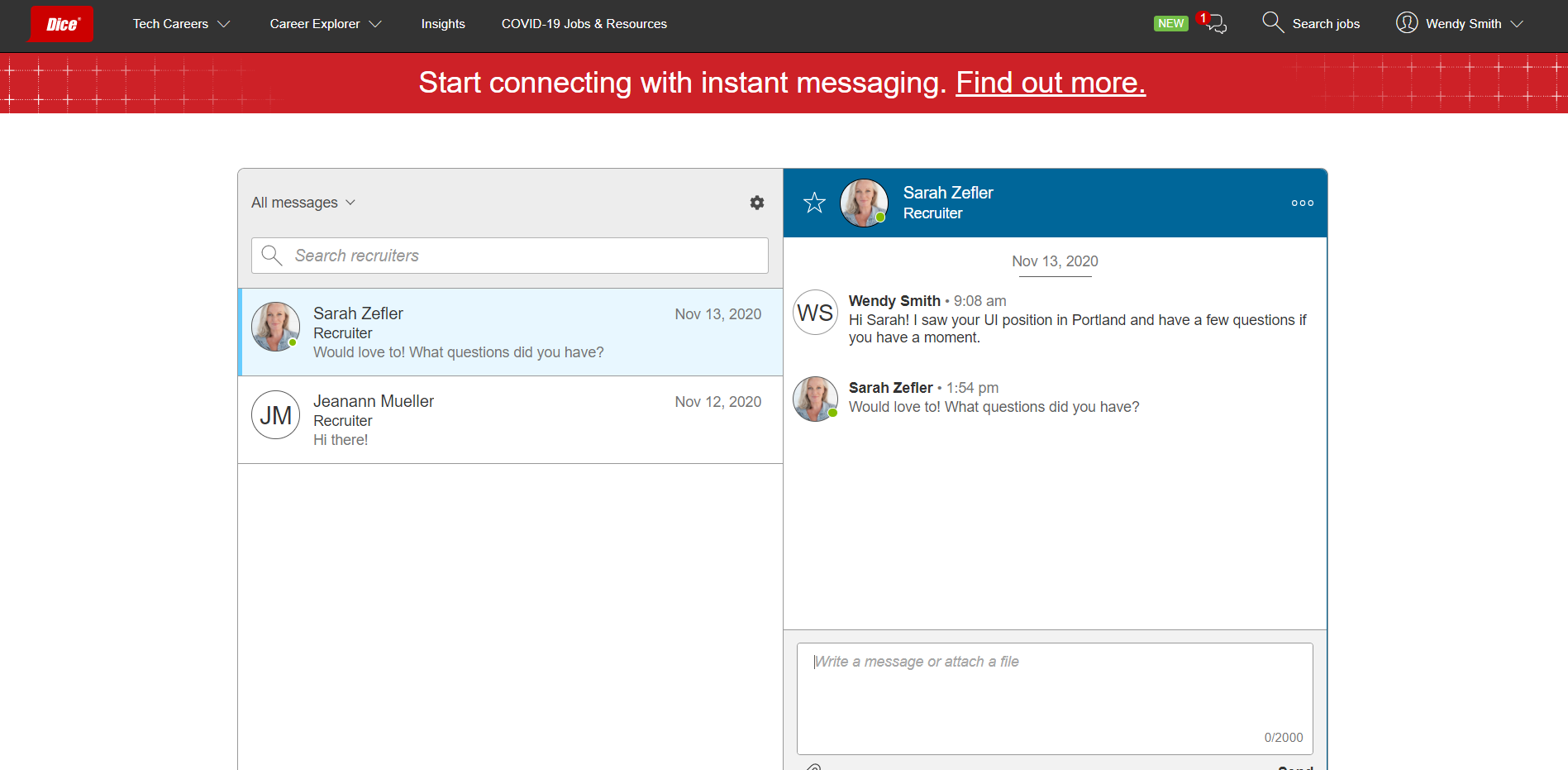 Use the drop-down on the top left to filter the messages displayed.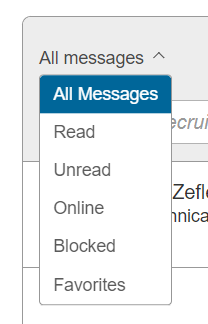 Note: Online shows recruiters who are currently online and available to chat.

Several actions may be performed from the options menu on the top-right of the conversation view:
Block/Unblock a user
Add/Remove a conversation from favorites
Mark a conversation as unread
Delete a conversation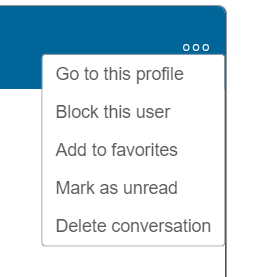 Never miss a message
Messages received when you are not online will be emailed to you by default. You'll receive a notification once every 12 hours, so we promise not to spam you. If you'd prefer not to receive an email when you get offline messages, you can opt out by:
Access the Message Center by clicking on the message icon from the top navigation bar.
Click the settings (gear) icon.
Click the slider to the gray position to opt out of the "Instant Messaging Email Subscription".



Learn more or start searching
Find out more about what's included in a Recruiter's profile.
Search for jobs to find recruiters you can start connecting with, using instant messaging!




Questions? Issues? Contact Product Support anytime by emailing techsupport@dice.com.
Prefer to talk on the phone? Call us Monday-Friday, 8am to 5pm CST at 888-321-3423.