Knowledge Center
---
How can I use Candidate Match to find the most qualified candidates?
Updated November 16, 2021
---
Candidate Match is Dice's latest innovation to help recruiters quickly assess an applicant's fit to a job

posting.





Using predictive analytics, it assigns a match level to each applicant so you can focus on the most qualified candidates first. And, Candidate Match only gets better over time. Built on a deep learning model, it continuously becomes smarter and more accurate by leveraging your feedback.

How does Candidate Match work?
As candidates apply to your job posting, Candidate Match will automatically review the applicant's tech skills as well as their past, present and desired job titles to determine fit with the job. Each applicant is placed into one of the five classifications, from Unlikely Match to Excellent Match, to highlight the most suitable candidates.

How do I access Candidate Match?
If you manage applications through the Dice Application Management Interface, Candidate Match displays next to each applicant's name on the Application Management page. You can also sort by the Match score. More details on the score are also displayed in the Application Details panel for each applicant.

Can I sort by Candidate Match level?
Yes! On the Applications Management page, click Sort and choose Match from the drop-down.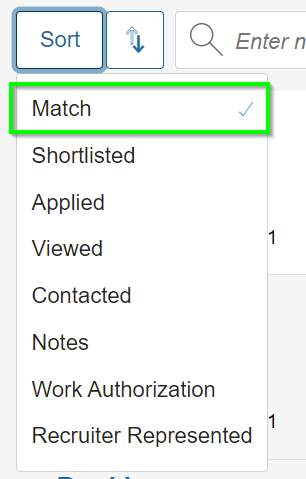 How do I know what skills matched?
On the Applications Management page, in the application preview panel on the right, click Match. This will display the Candidate Match rating and include the specific skills that were mapped in the job and to which skills they were aligned in the candidate's resume.

What happens when I provide feedback on a candidate?
Candidate Match feedback is used to further train the model so that it gets smarter over time. Through automation and expert supervision, the model continuously improves at parsing and associating skill-sets from applicants and job postings to provide accurate classifications.

You can always learn more about Candidate Match here.

Should you want to explore our products for job postings, sourcing services, branding services and more, please reach out to your Sales Representative or call 1-800-979-DICE.

Questions? Issues? Contact Product Support anytime by emailing support@dice.com.
Prefer to talk on the phone? Call us Monday-Friday, 8am to 5pm CST at 888-321-3423.