Knowledge Center
---
Dice's Best Practices for Communicating with Social Profile Candidates via Email
Updated April 28, 2022
---
Expand your outreach by connecting with Social Profiles on Dice.
Whether contacting a technologist who has a Dice Candidate Profile or one with a Social Profile, a few best practices can help improve the technologist's experience, and lead to greater trust – and response rates.
1. Create a compelling subject line.
The subject line is the first aspect of an email that technologists will assess. As a result, keep your subject line short and scannable, though make sure that it's also personalized by mentioning the job title and/or company and location that you're sourcing on behalf of.
Examples:
New career opportunity (suggested by default in TalentSearch)

Opportunity with [INSERT COMPANY]

[INSERT ROLE TITLE HERE] with [INSERT COMPANY]

Use your [X] skills at [INSERT COMPANY]
2. Provide context in the opening paragraph.
In the first few sentences of your outreach, you should answer key questions that technologists will want information on. These include who you are, who you're recruiting on behalf of, what type of role you're hiring for, and why the technologist is a good fit. Providing this type of context will help the technologist more easily assess their level of interest in a particular position and increase trust.
Example:
My name is [YOUR NAME], with [YOUR COMPANY]. I've been looking to fill a [INSERT ROLE TITLE] role in [INSERT CITY, IF APPLICABLE], and came across your profile. I'm impressed with your background and experience with [INSERT TECH SKILLS]. I wanted to see if you would be open to speaking about this role in more detail over the next few days.
3. Be able to explain how you found the technologist.
Technologists may wonder how you found their information, as well as if they can opt out of Social Profiles searches. When technologists specifically ask for how you found their information, you can leverage the example below.
Example:
I found your professional profile while searching for [INSERT POSITION] candidates on Dice via Social Profile Search, which aggregates publicly available data on the open web, similarly to other aggregators in the recruiting industry. Dice is a tech career marketplace that helps technologists like you connect with hiring organizations. You can take control of how you want your profile to appear on Dice – or choose to not have it appear at all by registering here. Alternatively, you can also easily opt out of Social Profiles searches by completing this form.
Sample Email: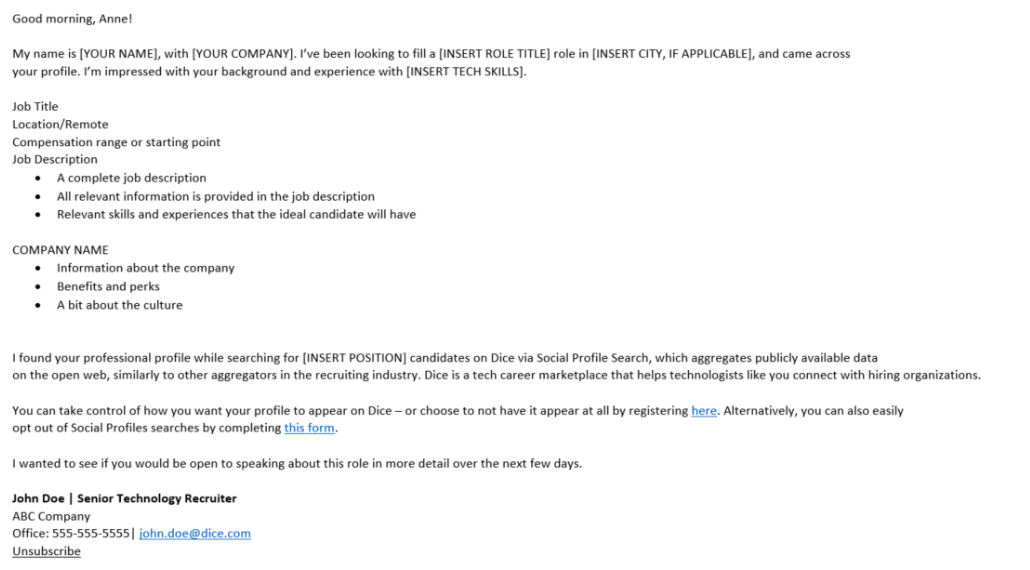 Questions? Issues? Contact Product Support anytime by emailing support@dice.com.
Prefer to talk on the phone? Call us Monday-Friday, 8am to 5pm CST at 888-321-3423.