Knowledge Center
---
Employer | Unbiased Sourcing Mode in TalentSearch - 11/16/2021
Updated November 16, 2021
---
Mitigate unconscious bias in your sourcing process.
With Unbiased Sourcing Mode, you can anonymize candidate information commonly associated with unconscious bias, such as names, years of experience, and schools attended, allowing you to focus on the most qualified candidates for your roles.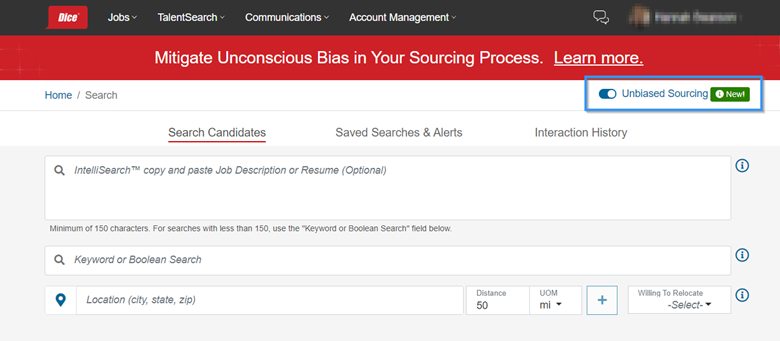 Information will be anonymized on the search results page, as well as inside the candidate's profile.

Unbiased Sourcing Mode can be toggled on or off at any time with a single click, and will not affect the other features currently available in TalentSearch. Recruiters using TalentSearch can continue to leverage more than 20 filters to help pinpoint technologists based on role requirements, ensuring every candidate receives fair opportunities.



Questions? Issues? Contact Product Support anytime by emailing support@dice.com.
Prefer to talk on the phone? Call us Monday-Friday, 8am to 5pm CST at 888-321-3423.