Overview
The average tech salary increased 2.3% year over year to $111,348 (compared to $108,857) in 2022. Following a year of strong salary growth for tech professionals, the continued upward trend in average tech salary shows that tech skills and the professionals that provide them can still command high compensation because of sustained demand.
Digging into the data, you'll see that non-traditional tech hubs are experiencing strong growth in average tech salary, supporting a trend of tech professionals moving away from employment in traditional tech hubs, like California, and opting for neighboring states, like Arizona (+20%). The data also reveals a trend of organizations prepared to pay for tech professionals with data-related skills to support infrastructure for the storage, transit and analysis of data.
The most variability we saw in average tech salary occurred across industries, where the economy and consumer behavior plays a larger role. For example, the hospitality/travel* and manufacturing industries saw strong growth in average tech salaries year over year after weathering the multi-year storm of limited budgets and waves of uncertainty. The insights presented in this Salary Trends section provide a look at the compensation nuances that occur within specific locations, occupations and industries.
*Sample size less than 100 respondents, therefore not statistically valid. Presented for continuity purposes only.
---
Average Salaries in Top Tech Hubs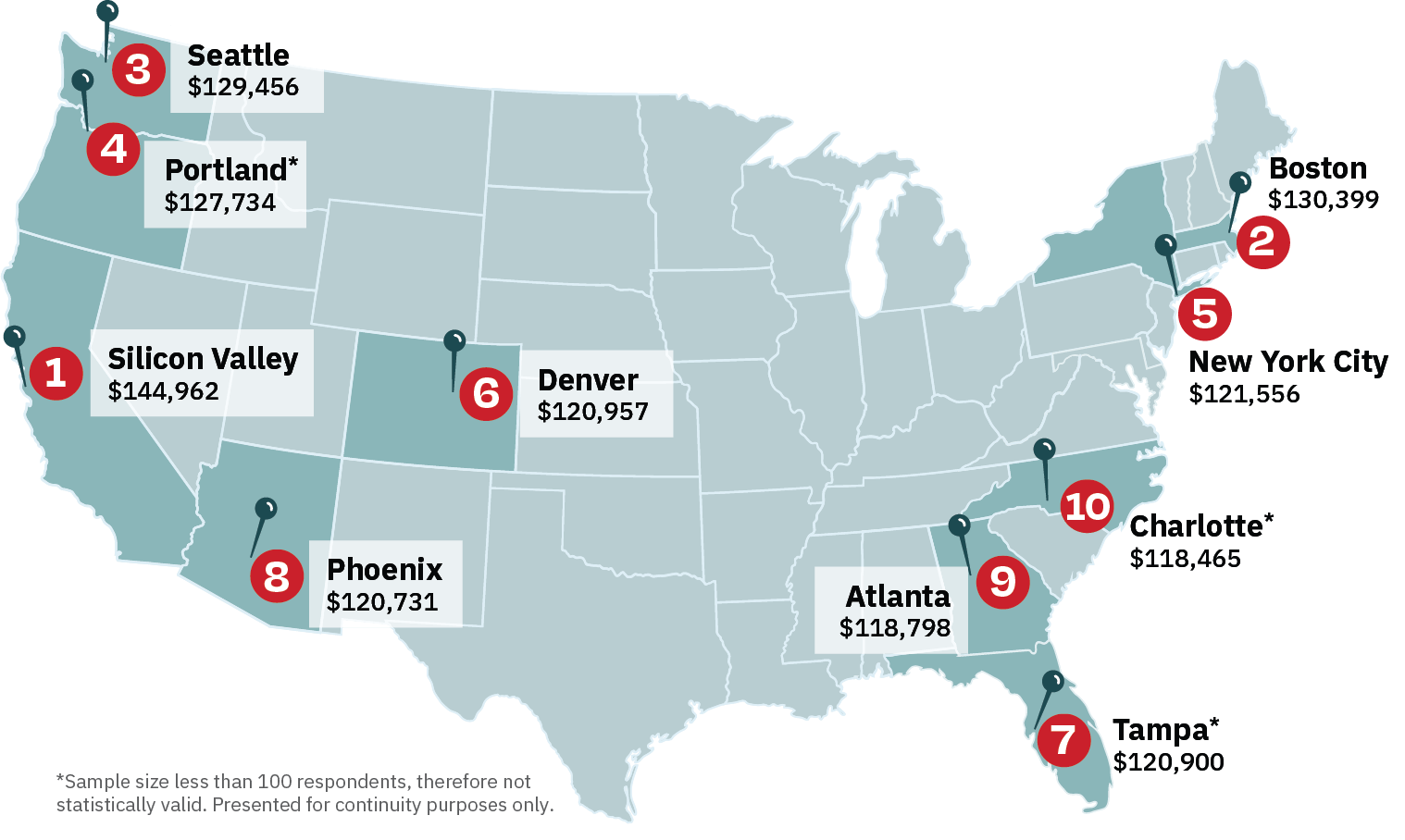 Tech Hubs
While the overall average tech salary across the country didn't experience much change between 2021 and 2022, there were quite a few interesting shifts when looking at salary by location.
At the city level, the hubs with the highest salaries saw continued tech salary growth in 2022. Tampa* (+19%), Portland* (+16%) and Charlotte* (+11%) all experienced double-digit growth in salaries during the year, with others in the top 10 showing more modest gains. Other notable growth stories outside of the more established tech hubs included Columbus*, where average tech salaries grew 16% year over year, and Phoenix, where salaries grew 26%. The top five cities for average tech salaries, in order, were Silicon Valley, Boston, Seattle, Portland* and New York City.
High tech salaries are certainly no longer limited to the coasts, as all of the top 25 cities for tech compensation boast an average salary over $100,000, and these locations are spread throughout the country. The average growth in the top 25, however, was 4%, given that there were a few declines and many modest year-over-year increases.
*Sample size less than 100 respondents, therefore not statistically valid. Presented for continuity purposes only.
---
Fastest Growing Tech Salaries by City
---
Average Tech Salary by City
At the state level, Massachusetts took the top spot in the highest average tech salary, at $128,690. Oregon*, California, Washington and Connecticut* took spots 2-5, all with average salaries of $120,000 and above. New Jersey, Colorado, Virginia, Arizona and District of Columbia* rounded out the top 10. Notable states outside the top 10 were New York at #15 (average tech salary of $109,901) and Texas at #16 (average tech salary of $109,819). Arizona, led by major gains in Phoenix, had the highest state growth at 20%, followed by Oregon* at 12%.
*Sample size less than 100 respondents, therefore not statistically valid. Presented for continuity purposes only.
---
Fastest Growing Tech Salaries by State
---
Average Tech Salary by State — Top 25
Industry
Naturally, the average tech salary differs by industry. In 2022, established industries proved that they are prepared to pay for talent with the skill sets and experience they need. Consulting ($131,995), medical/pharmaceutical ($129,118) and banking/finance ($128,571) industries each made the top five, alongside the ranks of traditional tech industries, software ($124,071) and aerospace and defense ($121,560).
When considering switching jobs to increase your salary, or mapping your career path, it's important to consider industries in addition to specific types of companies, as salary and job trends will vary.
Consulting firms continue to hire tech talent, especially engineers and developers, to support a relatively novel concept for many in the space: bringing software development in-house. Those tech candidates who can effectively manage teams and understand fundamentals of building software and systems stand an even better chance of landing a job in consulting.
If you're looking to increase your salary, you may want to explore jobs in the manufacturing and telecommunications industries. Manufacturing saw a 12% growth in salary from $100,622 in 2021 to $112,601 in 2022; telecommunications saw an increase of 7% from $108,550 in 2021 to $115,940 in 2022. Innovation is a core part of what drives each of these industries forward and technology (and the employees with the skills to develop and maintain that technology) is vital to innovative success.
Alternatively, retail/eCommerce and marketing/advertising* each experienced a double-digit percentage drop in average tech salary in 2022. Considering the hectic state of the economy in 2022 as inflation soared and talk of a recession loomed (and the often outsize effect of these conditions on consumer spending), it's not surprising that retail/eCommerce saw a 10% decrease in average tech salary from $114,126 to $103,044.
*Sample size less than 100 respondents, therefore not statistically valid. Presented for continuity purposes only.
---
Average Tech Salary by Industry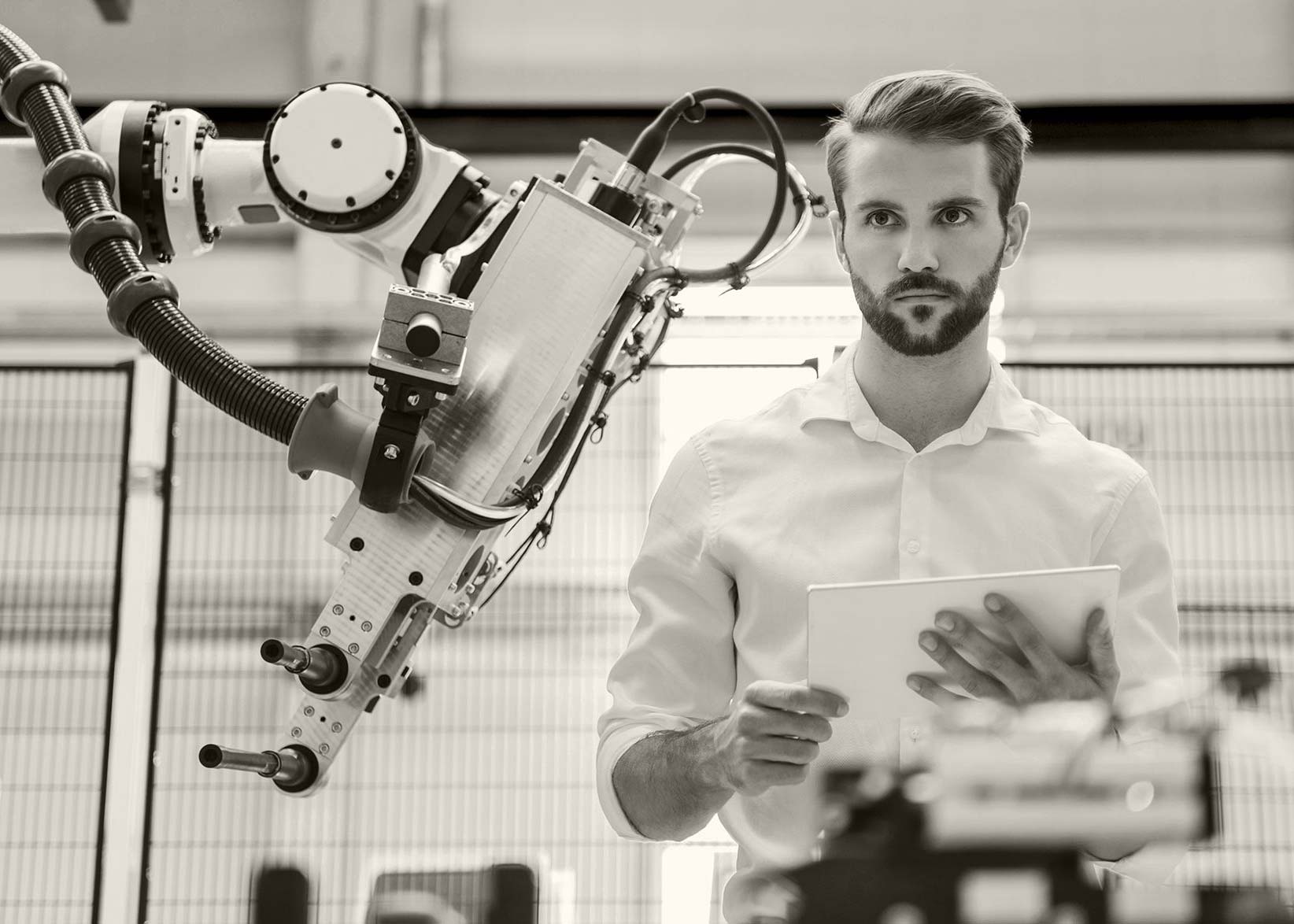 ---
Fastest Growing Tech Salaries by Industry
Occupations
As with previous years, IT management (including CEOs, CIOs and CTOs) took home the largest salaries in 2022, earning an average of $164,814. That's a whopping 8.4% increase from 2021, and hints at how many companies, their budgets flush with profits from the past few years, amply rewarded their executives.
But tech professionals with highly specialized skills did nearly as well, especially in roles that impact company strategies and tech stacks. For example, solutions architects earned an average of $155,934 in 2022, just ahead of principal software engineers* ($153,288) and systems architects* ($151,364). Cybersecurity engineers, cloud architects and program analysts/managers also earned significant checks.
It's easy to see why these roles demand such pay premiums in addition to other perks and benefits. It takes many years of learning and experience to effectively plot a company's software strategy or architect its cloud setup. For anything cloud-related, for example, senior tech professionals must master the intricacies of cloud-based compute, storage, network, database and security.
In addition, tech professionals who climb high within their respective hierarchies usually have superior "soft skills" such as communication and collaboration abilities, making them invaluable as managers and team leaders. If you're capable of managing a team of hundreds to accomplish a huge project that will impact an industry, or even the entire internet, you can expect substantial compensation.
But even tech professionals with a more tactical focus, such as software developers and data scientists*, landed six-figure salaries. A broad range of tech roles are clearly valuable to employers, and professionals skilled in these areas can command high salaries.
*Sample size less than 100 respondents, therefore not statistically valid. Presented for continuity purposes only.
---
Fastest Growing Tech Salaries by Occupation
---
Average Tech Salary by Occupation
Skills
Which skills paid tech professionals the most in 2022? And which enjoyed the most salary growth? As with previous years, mastering data-related skills such as MapReduce*, Elasticsearch, Apache Kafka and Teradata translated into sizable paychecks.
Programming languages such as Golang also dominated, along with cloud and virtualization skills such as PAAS, Amazon Route 53 and Kubernetes. These languages and skills are tools for a singular purpose: crafting the cloud infrastructure and applications that organizations everywhere need to maintain, grow and rapidly adjust to new circumstances. Tech professionals who can help organizations in that effort are worth their weight in gold, especially if they can combine these highly technical skills with "soft" abilities such as teamwork and effective communication.
As more organizations embark on far-reaching "digital transformation" initiatives, tech professionals with the ability to build out and maintain tech stacks, either on-premises or the cloud, will become more valuable than ever. Corporate and government strategies also hinge increasingly on data analytics, particularly massive datasets, which is driving salary growth in those areas.
For tech professionals everywhere, this list of skills is good news, as it largely represents older and well-established technologies with lots of documentation and learning opportunities. If you're thinking about upgrading your skill set in the coming year, mastering at least some of these could prove lucrative.
*Sample size less than 100 respondents, therefore not statistically valid. Presented for continuity purposes only.
**Growth calculation unavailable due to limited sample size from 2021 survey data.
---
Average Tech Salary by Skill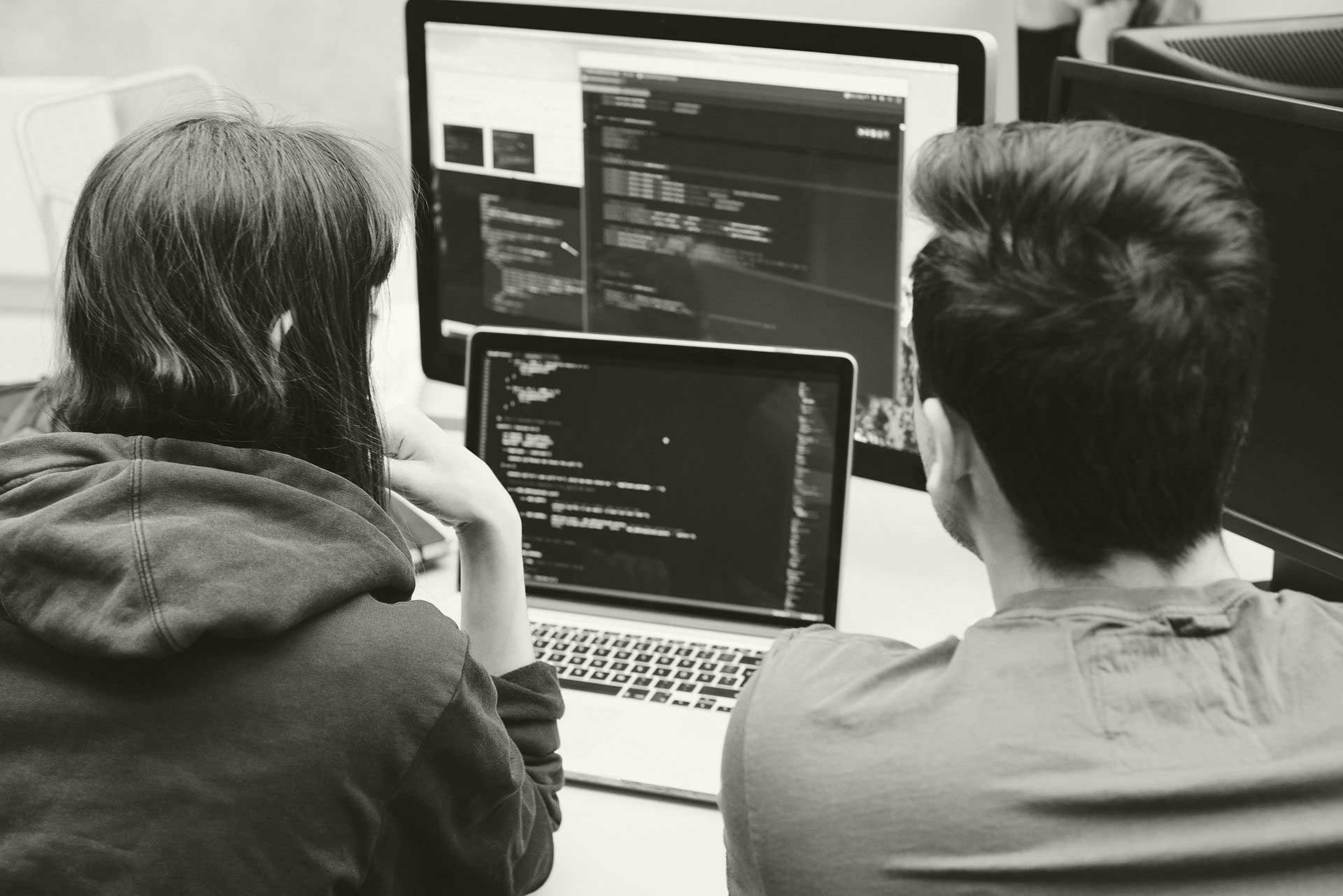 ---
Fastest Growing Tech Salaries by Skill
Experience
Beginning in late 2019, change has been the only constant for technology professionals when it comes to their careers.
The "perfect storm" of layoffs and business impacts from COVID-19, the mass move to remote work models and forced digitization, The Great Resignation, and now, the shockingly swift contraction throughout most of Big Tech has caused salaries to fluctuate wildly.
Yet the data from 2022 shows a level of stabilization that we haven't seen in prior years. The cohort with two years or less of technical experience (1.2%), 6-10 years of technical experience (1.7%), 11-15 years of technical experience (2.8%) and more than 15 years of technical experience (4.3%) all stayed under 5% growth in average salary while respondents in the 3–5 years of technical experience group saw 6.6% growth year over year.
While the slowdown in average tech salary increases was always going to happen (most companies don't have unlimited funds to spend on people), it's important to remember that demand for tech talent across the country remains extremely high, and attractive salaries are available, just maybe not in the industries you have always considered to be the most interesting. Widening your gaze could be beneficial, as well as adopting a "trust but verify" approach to each company's mission, culture, tech stack and information on what it's really like to work there.
---
Average Tech Salary by Experience in a Tech-Related Field
Certifications
Just over half (51%) of the tech professionals in our survey indicated they do not have a technical certification, with nearly half (48%) stating certifications are not required for their role. Although many tech segments emphasize the importance of certifications (such as cybersecurity), it's clear that many tech professionals don't feel that certifications are necessary for their role.
However, the perceived value of technical certifications could be changing. In our 2022 survey, just 9% of respondents indicated that certifications wouldn't be valuable for their role — down from 12% in 2021. Similarly, 12% of respondents indicated that they are currently working on getting a certification (up from 9% in 2021).
In an echo of last year's results, the most popular certifications remained focused on infrastructure and cybersecurity. Of those tech professionals with a technical certification, CompTIA A+ topped the list with 22%. Microsoft Certified Professional (16%) tied with CompTIA Security+ (16%) and both remained unchanged year over year. CompTIA Network+ (14%) and Project Management Professional (13%) also held their spots in the top five.
---
Do you have any technical certifications?
While many tech professionals might not feel that certifications are required for their role, highly specialized certifications can help job candidates prove their skill sets to hiring managers and recruiters. Certifications also provide additional leverage in negotiations for salary, benefits and increased responsibility.
---
What is the main reason for not having technical certifications?
---
Do you have any of these certifications?