In the long run, what might be more important to the war on terror than killing Osama Bin Laden was the seizing of his
computers, thumb drives and hard drives,
which pretty much delivered the keys of Al Qaeda's kingdom to U.S. intelligence services. It's the terrorist organization's Wikileaks moment.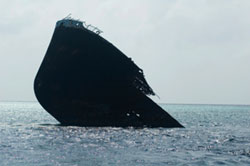 TrueCrypt – Free open source software that encrypts thumb drives and internal drives. You create a folder or volume, then create a key. You can even set up hidden volumes. That way if you're, say, being extorted the volume won't be revealed.
Drobo - Bin Laden was clearly at the mercy of data sprawl. With ten computers and 100 memory sticks, he would have greatly benefited from consolidating all that data into a central RAID environment. Yes, for him a few bullets would have destroyed it. The rest of us would find peace of mind by knowing where all our data is.
Carbonite – Local storage is saddled with some hefty limitations, like size and physical vulnerability. Al Qaeda could have kept all of its data off premises and in the cloud with 1024-bit encryption. Though Bin Laden had lots reasons to hole up in his Abbottabad bunker (like to avoid being killed. Oh well), keeping his data safe wouldn't have been one of them.
Ah, if only Bin Laden had known about these data protection tools. They're cheap, and you can learn from the late schmuck's mistake and begin to use them. Combine them and you're following best practices for data management and security. Encrypt the data, make two copies, and store one off site.