[caption id="attachment_9692" align="aligncenter" width="508"]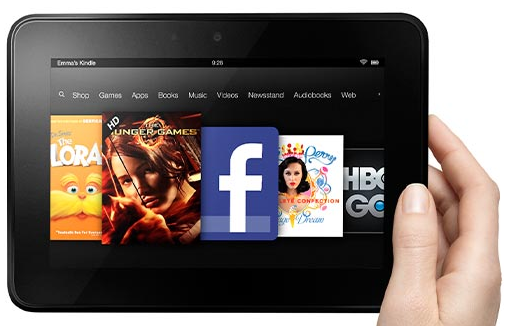 If rumors prove correct, Amazon's Kindle Fire could soon have a smartphone sibling.[/caption] Rumors about Amazon producing a branded smartphone never seem far from the surface, and now they're boiling up yet again:
according to The Wall Street Journal
, the online retailer is developing two smartphones and an "audio-only streaming device." The
Journal
, quoting unnamed "people familiar with the company's plans" for the information, suggested that one of the smartphones would feature a screen capable of displaying three-dimensional images without the user needing to wear special glasses. "Using retina-tracking technology, images on the smartphone would seem to float above the screen like a hologram and appear three-dimensional at all angles," the newspaper reported. "Users may be able to navigate through content using just their eyes." Details were sparser about the second smartphone, which could very well prove a "standard" device similar in design and features to others on the market. But Amazon's rumored hardware projects don't end with mobile devices: the
Journal
believes the company is also hard at work on a Wi-Fi device that would stream audio "through speakers or a television set." Such a device could leverage Amazon's growing presence in digital music. Whether these smartphones and other gadgets hit the market is an open question: Amazon could kill the projects for any reason at any time. Any audio-streaming device would face stiff competition from a broad array of hardware developers, including Roku and Apple. Rivalries on the smartphone side of things are even fiercer: Taking on the combined might of Apple's iPhone, BlackBerry 10, Nokia's Lumia portfolio, the HTC One, and Samsung's Galaxy S4 without a solid device (or pair of devices) and a whole lot of excellent marketing is pretty much a recipe for corporate suicide. If the
Journal
's reporting proves accurate, it wouldn't be the first time a company's attempted a 3D phone. At the 2011 CTIA conference in Orlando, Fla., Sprint unveiled the HTC Evo 3D, which could display glasses-free 3D content on its 4.3-inch screen. While the device earned some interest from reporters and analysts attending the show, it failed to spark much excitement on the broader market. That same year, a handful of other 3D phones arrived on store shelves, and none of them proved a game-changer. People like their movies in 3D, it seems, but the technology on handheld devices appears to be a harder sell. If Amazon releases a smartphone capable of projecting 3D images, hologram-style, it could succeed where other phones failed. But creating an extraordinary device with that sort of capability would require top-notch software, hardware, and engineering—and while Amazon's enjoyed a measure of marketplace success with its Kindle e-readers and tablets, nobody praises those products' construction in the same way they do an Apple iPhone or Nokia Lumia. A 3D smartphone would also prove expensive to produce, which could force Amazon to sell it at a price similar to that of other smartphones on the market—making it that much harder to stand out.
Image: Amazon