[caption id="attachment_4231" align="aligncenter" width="478"]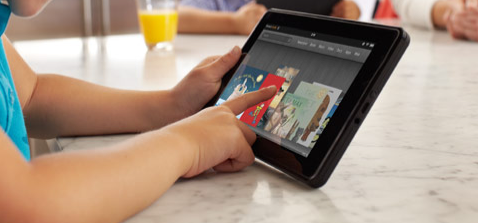 In addition to the new Kindle Fire HD and Kindle Paperwhite, Amazon is revamping the original Kindle tablet.[/caption] Amazon used a Sept. 6 event in California to debut a range of products, including a frontlit Kindle e-reader with a higher-resolution screen, an updated Kindle Fire, and the new Kindle Fire HD in two screen sizes. As with previous Kindle releases, CEO Jeff Bezos took the stage to talk to the assembled media. "Customers are smart," he said, according to a live Web feed of the event provided by
The Verge
. "Last year, there were more than two dozen Android tablets launched into the marketplace, and nobody bought them." By contrast, he added, Kindle Fire is a "service" designed to port e-books, streaming video and other content from Amazon's servers to the user; hardware is a critical component, but also a part of a much more enormous whole.
Kindle Paperwhite
But first, Bezos showed off a new version of the Kindle e-reader, the Kindle Paperwhite, complete with a frontlit, higher-resolution screen (221 pixels-per-inch and 25 percent more contrast, according to Amazon). The device weighs 7.5 ounces and is 9.1mm thin; battery life is rated at eight weeks, and the screen brightness is adjustable. Software-wise, Amazon also tweaked the user interface so it more closely resembles that of the Kindle Fire, allowing users to swipe through their stored content. The "regular" Kindle Paperwhite will retail for $119, while a Kindle Paperwhite 3G will cost $179. Both devices will debut October 1. Amazon is keeping the original Kindle, albeit with upgrades that include new fonts and crisper text; that will retail for $69. Amazon's publishing-related announcements included Kindle Direct Publishing, designed to help authors self-publish their manuscripts (while maintaining the copyright and taking a hefty chunk of the total royalties).
Updated Kindle Fire
Bezos then moved onto the Kindle Fire, claiming the 7-inch tablet has seized some 22 percent of the tablet market in the United States. This is a claim of some dispute, considering how Amazon routinely declines to release hard sales data related to any device in its Kindle franchise. The updated Kindle Fire, which will retail for $159 and ship Sept. 14, includes a faster processor and more RAM.
Kindle Fire HD
Bezos also unveiled the Kindle Fire HD, which features a choice of 7-inch or 8.9-inch screens, dual stereo speakers with Dolby Digital Plus, two antennas for better WiFi pickup, and a Texas Instruments OMAP 4470 processor (which Bezos claimed could out-perform the Tegra 3). Bezos claimed that the Kindle Fire HD's WiFi speed exceeds that of the Nexus 7 and Apple's iPad 3, thanks to a pair of antennas and other proprietary technology integrated into the tablet. The Kindle Fire HD's local storage will start at 16GB. Additional features include parental controls, Whispersync for Games (which will store unlocked levels and other game information in the cloud), a revamped email interface, and Kindle-specific Facebook and Skype apps. Bezos promised the audience a smoother interface (which definitely seems a theme of the moment:
at the Nokia event yesterday
in New York City, executives promised the new generation of Lumia smartphones running Windows Phone 8 would have sleeker user-interface transitions). The Kindle Fire HD's 7-inch version will retail for $199 and ship Sept. 14, while the 8.9-inch version will cost $299 and ship Nov. 20. An 8.9-inch, 4G LTE-enabled version with 32GB storage will be available starting Nov. 20 for $499, paired with a $49.99-a-year data plan. When Amazon first sent invitations to media for the Sept. 6 event, it refused to disclose any details other than a venue and time. However, that didn't stop the blogosphere from chattering about the possibility of a new Kindle Fire device. When Amazon claimed a few days later that the original Kindle Fire had "sold out," it only increased the amplitude of that chatter.
The Battle Begins
For months leading up to the event, publications speculated about possible features in the next Kindle Fire—or even if Amazon would restrain itself to a single device. Over the summer,
Boy Genius Report
claimed the online retailer would offer 7-inch and 10-inch tablets, citing an unnamed source. Other reports suggested the second-generation Kindle Fire would expand the franchise's screen size from 7 inches to 8.9 inches, making it more of a head-to-head competitor with Apple's iPad. The Kindle Fire already faces some significant competition from Google's Nexus 7 tablet, which has earned a good deal of media attention since its June debut. On top of that, Microsoft will enter the market this fall with its Surface tablets, which run Windows 8 and feature a flexible cover that doubles as a keyboard. But the biggest competition to Amazon's tablet plans may come in October, when current rumors suggest Apple will unveil a smaller iPad (the "iPad Mini"). That could make for some very interesting months ahead in the touch-screen market.
Editor's Note:
This article was corrected to reflect that the new Kindle e-reader is frontlit, not backlit.
Image: Amazon