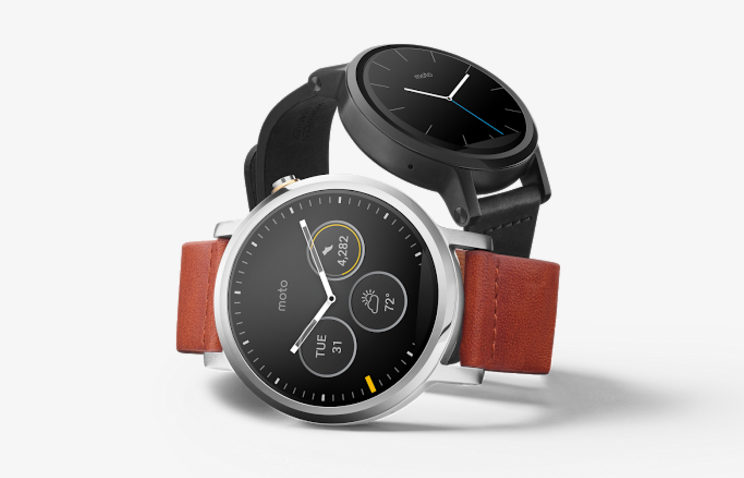 Google plans on producing two new Android Wear smartwatches,
according to Android Police
. Drawing from unnamed but "reliable" sources, the Website also suggested that the devices might have the Nexus branding that Google attaches to its flagship smartphones. One of the two watches may feature GPS, LTE, and the ability to track the user's biometrics, while the other (and presumably cheaper) option will lack those features. (Design-wise, it may resemble some earlier Android Wear smartwatches, including the second-generation Moto 360 devices seen in the image above.) Android Wear 2.0, announced at this year's Google I/O conference, includes some major tweaks to the Android Wear interface, including a revamped app menu. There's also support for standalone apps, an API for "complications" (or tiny watch-face elements), and improved fitness tracking. The developer preview for
Wear 2.0 is already in the wild
, although the OS likely won't reach consumers until sometime this fall. The big question is how Google will merge its continuing smartwatch efforts with its current exploration of the artificial-intelligence space. The search-engine giant has made no secret of its obsession with A.I. and machine learning: at I/O, executives demonstrated Google Assistant (formerly Google Now), which can field user queries, deliver information from the Web, and execute tasks. Google Assistant will appear in Android phones and other hardware, including Google Home, a voice-activated speaker. The potential utility to smartwatches is also clear—imagine a responsive assistant on your wrist, reacting proactively to your needs. In that context, the revamped Android Wear—and a new generation of devices loaded with it—could play an integral part in the rise of "wearable A.I." While it may take a few years for such a market to reach maturity, Android developers can take the first steps in familiarizing themselves with Wear 2.0: check out Google's own developer resources,
available via Android Studio
, along with
hardware system images
and
documentation
. Wear 2.0 will face competition from the Apple Watch, which is also undergoing a significant OS revamp.