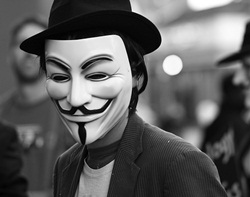 Continuing its attacks on child pornographers, dubbed #OpDarknet, the hacktivist group Anonymous has published the Internet addresses of 190 alleged pedophiles. The group previously claimed to have
disabled more than 40 child pornography websites.
Anonymous claims to have worked with the Mozilla Foundation to create a modified browser plugin for the Tor network, which allows anonymous browsing of the Internet, to track visitors to the child porn site Lolita City. That's a claim
Mozilla's add-ons product manager, Justin Scott, disputes
. It made its
disclosure to Pastebin
, where it explains the sting. It originally claimed to have
identified more than 1,500 pedophiles
, however. Anonymous also claims that a member of Tor's developer team operates Freedom Hosting, the hosting service for several child pornography sites. That
developer has denied it.
Diane Sowden, executive director of Children of the Street, has urged the group to leave the child pornography fight to law enforcement officials, who are better able to gather evidence to bring charges against those involved. However,
one of the hackers told Gawker
they're tired of waiting for law enforcement to act:
They'll take forever… due process for some of these guys are so weak. The best way for law enforcement to react is for us to release it. They can chose to follow or not.
The hackers have been busy, also
taking on the Mexican drug cartel Los Zetas.