[caption id="attachment_10319" align="aligncenter" width="618"]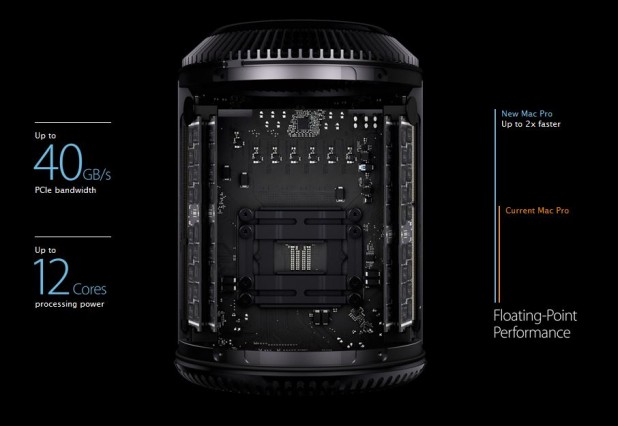 The upcoming Mac Pro: super-powered.[/caption] Reading the headlines coming out of
Apple's Worldwide Developer Conference (WWDC)
, it's possible to think Apple never made anything that couldn't be carried into a coffee shop. Judging only from the buzz, it would be hard to tell Apple ever sold infrastructure hardware, despite a user base that
continues to love Xserve
, Apple's last explicit effort to build enterprise-class servers. (Apple
doesn't even sell a server-specific version of its operating system
, although it does offer what might be
the best deal in server software
—"$19.99 for "OS X Server"—a full set of server-specific functions packaged as an application that runs on top of Mac OS X for $19.99.) Financial analysts barely mentioned the
WWDC's unveiling of the Mac OS X and Mac Pro
in their evaluations, focusing instead on enhancements to iOS and the revenue potential of iOS devices connected to Apple or third-party cloud services. All that aside,
the MacOS update Apple released yesterday
—OS X Update 10.8.4—includes as many features to benefit a Mac workgroup server as it does strictly desktop functions. Apple improved support for Microsoft Exchange calendars. Other updates include better integration with Active Directory that will improve log-in, especially on cached accounts that live on an internal servers using the .local domain-name convention. There's also support for Apple's Xsan storage-area-network for some applications, improved replication with OpenDirectory data, and compatibility with 802.1X networks running ActiveDirectory. The last major functional update for OS X Server came last December,
when Apple built in a caching function to store updates of the OS
and other apps so they could be downloaded in bits in the background rather than in one big chunk while admins waited. That version also got a monitoring function to identify which of the machines attached to an OS X Server had been backed up, as well as the timing and size of the backup. On top of that, there was the ability to run a Wiki Server on MacBook Pro with a high-res Retina display and a management interface that allows admins to manage security certificates, as well as the opportunity to link directly to Microsoft's Active Director using the Mac Profile Manager rather than having to log in to a Windows machine separately. The last security update for Apple servers came by default in the
update that brought Mac OS X to version 10.8.3 in March
.
New Mac Pro: Secret Server?
Apple also announced a new version of its more-powerful Mac Pro desktop computer with specs that look more like a Windows LAN or workgroup server than a typical corporate desktop. The newly redesigned Mac Pro will run Intel Xeon "Haswell" processors with up to 12 cores, memory running at (an unusually fast) 1.866GHz, a solid-state drive that runs 2.5 times faster than current drives, support for dual AMD DirectPro graphics processing units as well as the Nvidia chips with which the Pro currently ships. It will have a PCIe controller running at a brisk 1.25gps to support additional NIC or other cards and ports, for both USB 3.0 and the Thunderbolt 2 interface (which tops out at 20Gbit/sec). Apple didn't announce pricing or a release date, but those specifications look much more similar to LAN or workgroup-level Windows servers than they do to typical corporate desktops.
Image: Apple