[caption id="attachment_10129" align="aligncenter" width="618"]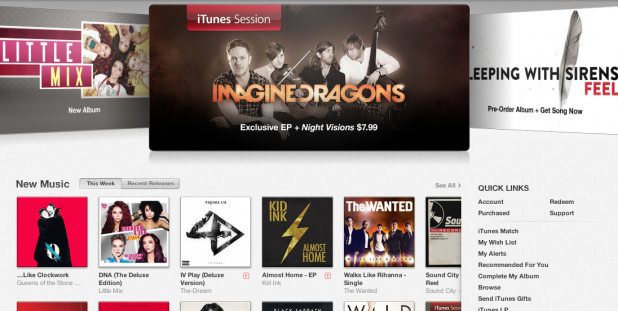 If reports prove correct, Apple may soon add a radio station to iTunes.[/caption] Apple seems closer to securing the rights necessary for a streaming music service—but it faces substantial (and perhaps unanticipated) challenges if it wants that project to prove a success in a crowded marketplace.
According to The Wall Street Journal
, Apple has secured a licensing deal with Warner Music Group for the rights to the latter's song catalog. In theory, that success could help Apple lock down similar deals with other music labels, but a major deadline looms: reports suggest that the company wants to announce its iTunes-branded streaming service at next week's Worldwide Developers Conference in San Francisco. Thanks in large part to the longtime dominance of its iPod digital music player, Apple has managed to slurp up a significant portion of the digital downloads market. Since its initial release 12 years ago, the iTunes music hub has grown to carry everything from television shows and movies to apps (via the App Store subdirectory). But over the past several quarters, the online-music landscape has shifted a bit beneath Apple's feet. For starters, streaming services have begun to eclipse digital downloads in popularity. Back in January,
Digital Music News
drew data from Nielsen Soundscan and public company disclosures and found that, while the number of paid downloads from the likes of Amazon and iTunes continued to increase year-over-year, use of streaming services such as Spotify and Pandora outpaced that growth by double- and triple-digit margins. The growth in streaming services worries the music industry, which has seen its royalties fall as a result. Whereas downloading an album off iTunes can earn an artist and backing label a significant cut of cover price, tens of thousands of plays on Spotify or Pandora often translate into only a couple hundred dollars—in other words, only fractions of a penny per play. The music labels want those numbers to work more in their favor, which—if the current reports are accurate—is causing much of the friction in the Apple negotiations. Any Apple music service will face competition not only from Spotify and other well-entrenched streaming services, but also from Google, which recently launched a paif subscription service with the somewhat clunky name of Google Play Music All Access. In exchange for $7.99 a month, the Google service allows users to listen to unlimited numbers of songs and create custom radio stations. Apple surely knew that Google had something in the works before the latter's big announcement at its
May I/O conference
. Apple also probably figured that the labels would put up a bit of a fight—after all, securing the rights for iTunes digital downloads had taken quite a bit of back-and-forth between various parties (and some
music-executive stalking
by Apple co-founder Steve Jobs). And dozens of Apple executives doubtlessly ran an analysis on the coming competition with Spotify and Pandora, and figured the streaming market was still one worth tackling. But with a hard deadline looming on those negotiations, and Google having made a splash with its own streaming service, Apple could find itself entering the increasingly-crowded streaming market in a somewhat unusual position: that of an underdog.
Image: Apple