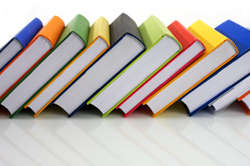 Apple's expected textbook-technology announcement, set for Thursday, is likely to be a
"GarageBand for e-books"
technology to help create interactive e-books, according to Ars Technica. The Wall Street Journal reports the announcement likely will be of
textbooks with interactive content
for the iPad and partnerships with publishers, including
McGraw-Hill
. According to Ars Technica:
Don't expect that content to come directly from Apple, however. "Practically speaking, Apple does not want to get into the content publishing business," [Inkling CEO Matt] MacInnis said. Like the music and movie industries, Apple has instead built a distribution platform as well as hardware to consume it — but Apple isn't a record label or production studio. But what Apple does provide is industry-leading tools for content production, such as Logic or Final Cut Pro, to help create content. The company also produces tools like GarageBand or iMovie that make such production accessible to a much wider audience.
The article also says Apple is expected to embrace the the recently updated ePub 3 standard, which makes content accessible across devices — and also
accessible to those with disabilities.
The new version allows audio and video interaction. Technology-in-education expert Dr. William Rankin of Abilene Christian University published a paper in 2009 on digital convergence in learning, featuring a digital device in the vein of the iPad, which came out six months later. He touts the importance of social networking in converged learning. He told Ars Technica:
Future digital texts should allow students to layer all kind of other data, such as pictures, and notes, and then share that with the class or, ideally, anyone.
The article also notes that in Walter Issacson's biography, Steve Jobs considered textbook publishing an "$8 billion-a-year industry ripe for digital destruction." USA Today reports the market
small, but growing.
It quotes Simba Information, a publishing industry research firm, which estimates that the market grew 44.3 percent to $267.3 million in 2011.