[caption id="attachment_11245" align="aligncenter" width="618"]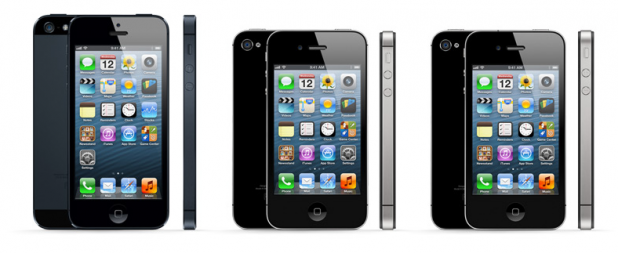 The iPhone 4 (far left) risks disappearing from U.S. stores, thanks to an ITC ban.[/caption] Could the U.S. government end up banning the iPhone 4? That's the risk Apple faces if the U.S. International Trade Commission (ITC) ends up enforcing an earlier order to block the U.S. sales of older iPhone and iPad models. That ban could take effect August 4 unless U.S. trade representative Michael Froman—with input from President Obama—makes a decision to overturn it. But the executive branch hasn't vetoed an ITC ban since 1987. According to
The Wall Street Journal
, citing anonymous sources familiar with the matter, the U.S. Justice Department and the Federal Trade Commission (FTC) are also lending their input to the ruling. Verizon, AT&T, and a handful of tech companies
have asked the federal government to overturn the ban
. Samsung originally pressed the ITC for a ban on Apple products.
The agency's June ruling (PDF)
"determined that Samsung has proven that the accused iPhone 4 (AT&T models); iPhone 3GS (AT&T models); iPhone 3 (AT&T models); iPad 3G (AT&T models); and iPad 2 3G (AT&T models) infringe the asserted claims of [U.S. Patent No. 7,706,348]." The appropriate response, it added, was "a limited exclusion order and a cease and desist order" that prohibited Apple from importing those devices into the United States. Samsung and Apple have spent the past several quarters engaged in vicious patent-infringement battles in courtrooms around the globe. In 2012, a California court ordered Samsung to pay Apple $1 billion for intellectual-property violations, an award that was subsequently cut by several hundred million but nonetheless helped deepen the already-vicious acrimony between the two firms. Whether or not the Obama administration decides to uphold the ITC's ban, the battles between Samsung and Apple will doubtlessly continue in Asia, the European Union, and the United States. As the world's largest Android manufacturer, and creator of the bestselling Galaxy smartphones, Samsung has managed to earn enormous profits over the past few years—but in the process, it also managed to paint an equally huge target on its own back. Unless the arch-rivals come to a settlement of some sort, Apple will continue to do everything in its legal power to hit that target.
Image: Apple