[caption id="attachment_17405" align="aligncenter" width="618"]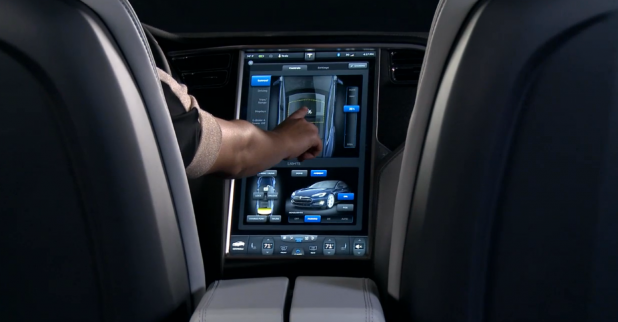 Tesla's touch screen: a possible point of collaboration with Apple?[/caption] Apple executives met with Tesla CEO Elon Musk "last spring" to discuss a possible acquisition,
according to a new report in SFGate.com
. Apple and Tesla both refused to comment on any possible talks, the newspaper added. But an anonymous source with knowledge of the discussions said that Musk had met with Adrian Perica, who heads up Apple's M&A division, and possibly Apple CEO Tim Cook. There are other possible explanations for such a coming-together of some of Silicon Valley's most powerful people, such as a brewing partnership over the large touch-screens present in every Tesla vehicle; but the idea of an outright acquisition is what gets analysts really excited. "Tesla and Apple already have plenty in common," SFGate.com noted. "Both have built brands based on advanced engineering and stylish user-friendly design. And each company has become a symbol of Silicon Valley innovation—even among people who don't own their products." But Musk is also an executive with an independent streak, one who seems to take particular joy in an iconoclastic approach to business; it's questionable how well he would integrate into a much larger corporation, even if given a substantial degree of autonomy. On the other side of the equation, Apple isn't a company known for big, bold acquisitions that require a radical revamping of its corporate structure; it prefers to snatch up tiny startups with esoteric products or patents that can bolster, in some fashion, Apple's in-house projects. At the same time, however, Tesla is still a young company with the occasional money crunch, which might prod Musk to examine ways in which he can successfully partner with an established, cash-rich firm. And Apple wants to reverse Wall Street perceptions that its most innovative (and growth-rich) days are in the rearview mirror—something that buying an up-and-coming car company could help reverse. It doesn't hurt that Tesla builds automobiles that are basically Apple products on wheels: minimalist, somewhat pricey, and loaded with next-generation features. So whether any sort of collaboration emerges from these rumors remains to be seen; but in the meantime, more than one analyst will doubtlessly enthuse about how well these two companies could go together.
Image: Apple