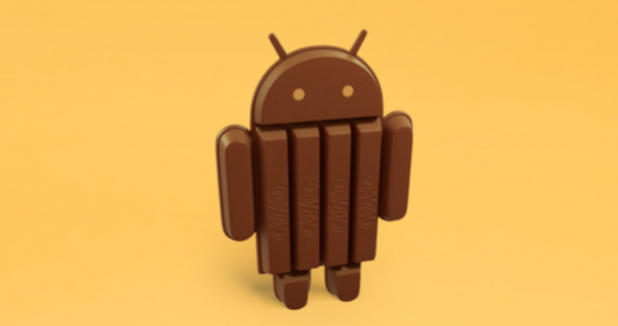 Now that Apple's iOS 7 is in the wild, it's perhaps time to compare it with Google's upcoming Android 4.4 (codenamed "KitKat," as in the candy bar). As with previous versions of Android, this latest iteration is named after a sweet confection of some sort (previous names included Cupcake, Donut, Éclair, Froyo, Gingerbread, Honeycomb, Ice Cream Sandwich, and Jelly Bean). Beyond the name, however, Google's parted with precious little information about KitKat over the past few weeks. "It's our goal with Android KitKat to make an amazing Android experience available for everybody," Google
stated on its Android Website
. Does that mean Android will soon appear on devices beyond smartphones and tablets, such as game consoles and wristwatches? Only the engineers and executives working on the project know for sure. What we do know—thanks to a couple leaks from
TuttoAndroid
,
The Verge
, and
9to5Google
—is that Android 4.4 has embraced some of the design principles that now underlie Apple's iOS 7, specifically the streamlining or "flattening" of app icons and the introduction of more transparent elements on the home-screen. Google is reportedly baking more voice support into the software, which could expand the
"vocal commands" capability of Google's Moto X flagship phone
to the broader Android ecosystem. With the Moto X, voice commands will do everything from turn it on ("Okay Google Now") to activate applications. If that functionality is present, it's also possible that Android 4.4 would include support for the same multiplicity of sensors that allows the Moto X to perform functions with a minimum of tapping icons and swiping virtual buttons (for example, turning on the camera by twisting the phone). While those sorts of features could lessen the Moto X's appeal as a "unique" device, it would certainly strengthen the overall Android ecosystem against iOS 7, Apple's latest upgrade. As innumerable blogs have pointed out, many of the biggest changes to iOS 7 are purely aesthetic: Apple made the decision to strip out a number of skeuomorphistic elements— i.e., real-world details such as the green casino felt in the Game Center background—in favor of so-called "flat" design. But there are also functional updates to the Notification and Control Centers, with an eye toward making their respective tools and buttons easier to access; and while Apple hasn't placed the same emphasis on voice control as Google, its Siri "digital assistant" comes with a few updates, including a male voice and access to more sources for information, including Wikipedia. Welcome to the next stage of the mobile-OS arms race: it's cuter and more brightly colored than ever before.
Image: Google