Did images of Nokia's upcoming Windows Phone 8 smartphones leak a few days early? That's the question after a Twitter feed,
@evleaks
, posted a set of images early on Aug. 31 (tip of the proverbial hat goes to
SlashGear
and other sites that first noticed the postings). The first, it claimed, was of the
"4.3-inch Nokia Lumia 820"
: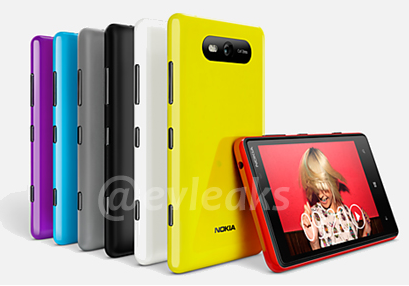 While the second purported to show the
"4.5-inch Nokia Lumia 920 with PureView"
: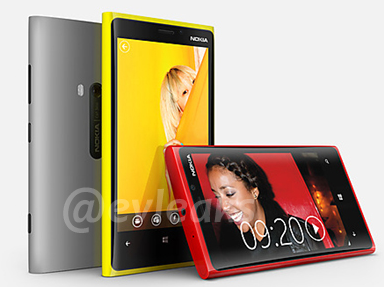 Corporate-sanctioned leaks are a fairly regular thing in the tech world, but they tend to follow well-defined patterns: a public-relations executive—wait, sorry, "unnamed source"—will email a journalist with an image of an upcoming device, for example, or a disgruntled former engineer will data-dump information onto their blog. Glossy publicity images originating from a new, relatively unknown Twitter feed is less common, although the Twitter feed in question has
leaked other images in the past
. Nokia has been teasing a Sept. 5 event, where it's widely speculated that the Finnish manufacturer will whip the curtain back from the first Windows Phone 8 devices. A short video to promote the event featured
a blonde girl on a bike
speeding down a wharf during
magic hour
, while remaining tragically light on glimpses of actual hardware or software. If those images posted on @evleaks prove accurate, then Nokia's Windows Phone 8 devices won't deviate much from the design principles established by their Windows Phone 7.x predecessors (including the Lumia 710 and
Lumia 900
, the latter considered the company's flagship device). Windows Phone 8 places Nokia in something of a bind: having pushed its Windows Phone 7.x devices so hard over the past few quarters, the company now needs to shift course a bit and promote an entirely new line. Microsoft executives have declined to inform SlashCloud if Windows Phone 7.x will be updated beyond Windows Phone 7.8, due later this year, which will give Windows Phone devices a handful of Windows Phone 8 features. While Windows Phone 7.x apps will run on Windows Phone 8, Windows Phone 7.x devices will be unable to run Windows Phone 8 apps; nor will current Windows Phone 7.x smartphones magically upgrade to Windows Phone 8. That's because Microsoft rebuilt its smartphone platform from the foundation-up in order to have Windows Phone 8 share a kernel, file system, graphics support, and other elements with Windows 8. That will create a tight link between the two platforms, and possibly shine more of a spotlight on Windows Phone, but it almost certainly terminates the evolutionary tree of Windows Phone 7.x—which could alienate the early adopters. Not that those early adopters flocked to the platform in droves: according to recent numbers from
research firm Gartner
, Microsoft's share of the worldwide smartphone market stands at 2.7 percent, well behind Google Android at 64.1 percent, Apple's iOS at 18.8 percent, Symbian (which Nokia abandoned for Windows Phone) at 5.9 percent, and BlackBerry at 5.2 percent.
Image: @evleaks