ASUS's Eee Pad Transformer Prime tablet (that's a mouthful, I know) was finally officially announced today,
as promised
by Chairman Jonney Shih at AllthingsD some two weeks ago. Nvidia was also there to launch its Tegra 3 quad-core processor -- the Transformer Prime is the first device to be powered by it. Aside from the powerful processor, the Transformer Prime comes with a 10.1-inch Super IPS+ display with a resolution of 1280 x 800, 1GB RAM, 32/64 GB on-board storage (expandable by microSD card), 1.2 megapixel front camera, 8-megapixel back camera with flash and a GPS chip. The device also features a micro HDMI port, while the dock has a USB port and an SD card slot. With all of the above, ASUS still managed to keep the tablet's profile slim. At 8.3mm and weighing just 586g, the Transformer Prime is both thinner and lighter than Apple's iPad 2.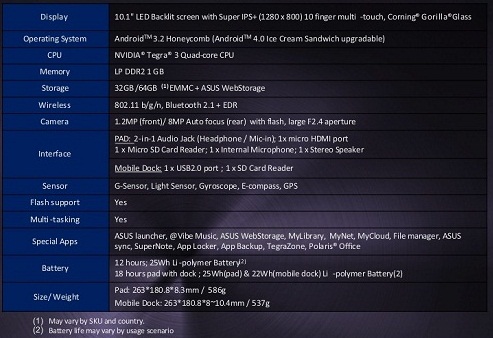 The specifications of the device, though impressive, aren't the only selling points. In a world where
companies get sued
for making ordinary looking rectangular tablets, ASUS is differentiating the Transformer Prime from other tablets by including a keyboard dock. Just like the first version of the Transformer, the dock transforms the device into a netbook while acting as an external battery pack. (I suppose that's where the name "Transformer" comes from). When docked, the advertised battery life of the Transformer Prime jumps from 12 to 18 hours.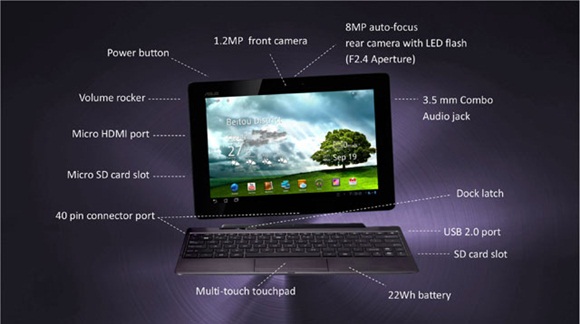 The tablet will go for $499 for 32GB and $599 for 64GB. At launch, expected in December, it will be powered by Android Honeycomb instead of Ice Cream Sandwich, though ASUS promises an upgrade at a later stage.