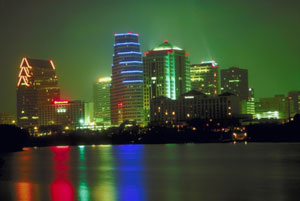 Will the Apple-Samsung Battle Hurt Austin?
Some say the escalating legal battle between Apple and Samsung could impact the supply agreement between the companies, possibly slowing down work at Samsung's new factory, which is now moving into volume production.
Statesman.com
Dell Opens Customer Solutions Center:
Dell began operations at its customer solutions center in Round Rock as part of it effort to find new ways to market its technology and services to mid-size business customers. The center will allow potential customers to "test drive" their existing business applications with Dell's cloud computing software and hardware.
Statesman.com
Upcoming ITEXPO seeks Submissions for Startup Camp:
Early-stage startups and entrepreneurs are encouraged to submit proposals for Startup Camp at the ITEXPO, to be held at the Austin Convention Center in September. StartupCamp's "ready, set, pitch" format offers five early-stage companies the opportunity to validate their pitches in real time, and network with potential investors and partners.
SunHerald.com
N-trig Raises $16 Million:
The Austin-based touch-screen technology developer received $16.1 million of a planned $30 million round of financing. The company focuses primarily on the tablet PC market, but also makes a screen that can turn LCD monitors into touch screens.
Austin Business Journal
SaaS Firm Kell Partners Doubles Office Size:
Kell partners moved into a new 3,500-square-foot space, more than double its previous size, after sales jumped more than 80 percent year over year in the first quarter. KELL provides consulting, implementation and technology services to more than 300 non-profits.
Austin Business Journal
Catapult Systems Launches Mobile Software Division:
Consulting firm Catapult Systems expects the new division to grow from 16 employees to 40 in a year.
Austin Business Journal
Nuventix Receives Venture Capital From GE:
Nuventix Inc. is one of ten clean technology startups to receive funding from GE. The produces cooling systems that manage heat released from light-emitting diode fixtures and other devices.
Statesman.com