Many large employers procure the services of IT contractors through online tools that evaluate their backgrounds and compares the hourly rates charged by staffing firms. These systems offer the ability to customize selection criteria, though many companies conduct a competitive bidding process for each assignment. The candidate whose background most closely matches the job description, and who offers the lowest hourly bill rate, often gets the gig.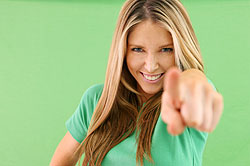 Experienced contractors know they're often pitted against others when their resumes and hourly rates are submitted to managers through a vendor management system (VMS), says Michael Hetrick, resource development manager for the staffing firm Modis. However, candidates new to contracting may not be aware of how the selection process works. Top candidates frequently have to interview with the manager despite surviving the automated screening process, he adds, which lengthens the placement time. So, recruiters should collaborate with candidates before submitting them to a client through a VMS, so the two can agree on a rate that will stand the best chance of winning the assignment based on the job specifications, the candidate's experience, and the client's buying practices.

Contractors don't always need to offer the lowest rate to win an assignment, notes Amanda Halpenny, manager of recruiting operations for Foothills Consulting Group. Sometimes, Halpenny speaks with the client before submitting a resume, allowing her to emphasize the candidate's value. Or, she might be aware of a client's willingness to pay a higher rate for contractors with hard-to-find technology expertise. Regardless, a competitive bidding process adds another dimension to the contracting world, so follow these tips to win the battle for assignments:
Ask whether your profile will submitted through a VMS, and collaborate with the recruiter on strategy.
Consider how closely your skills and experience match the requirements before establishing a rate. Many staffing firms are willing to lower their percentage so their candidates can win the bid.
Customize your resume so it matches the job specifications. Doing so increases the score assigned by the system.
Provide recruiters with examples of similar project experience you've had, and the results you've achieved, so they can go to bat for you.

Although Hetrick says that feedback is often hard to get when candidates are submitted through a VMS, try to ascertain how you measured up against other candidates so you can make adjustments to your strategy and increase your batting average over time.
-- Leslie Stevens-Huffman