[caption id="attachment_10891" align="aligncenter" width="618"]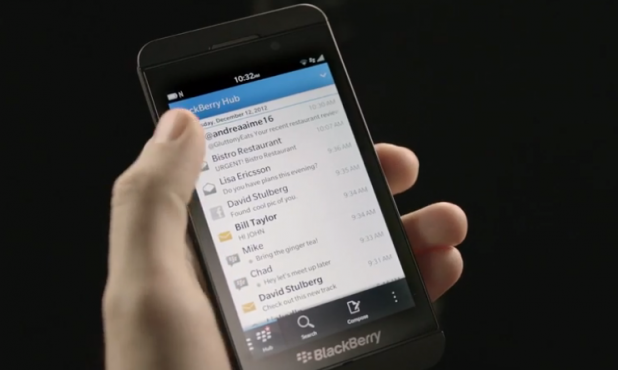 BlackBerry's Z10.[/caption] Is BlackBerry on the verge of putting itself up for sale? "BlackBerry will pursue every opportunity to create value for shareholders," BlackBerry CEO Thorsten Heins told the audience at the company's annual meeting,
according to Reuters
. Whether that ultimately means selling off assets to competitors, or merely licensing BlackBerry OS to run on hardware created by other manufacturers, remains to be seen. What's certain is that, despite much hype and an expensive ad campaign, BlackBerry's new "hero" smartphones haven't become the blockbuster hits needed to revitalize the company. "Our transformation is ongoing and in no way easy," Heins reportedly added. "This is a long-term transition for the company but I can assure you that we are pushing very hard." BlackBerry shopped 2.7 million BlackBerry 10 devices last quarter—a solid showing, but one nonetheless below analyst expectations. Despite a rise in quarterly revenue and device shipments, the company still took an $84 million loss, which sent the stock plunging in late June. (For its Q1 fiscal 2014, BlackBerry reported revenues of $3.1 billion, cash flow from operations of $630 million, and $3.1 billion in the bank.) In addition to a pair of "hero" devices loaded with top-quality hardware (the Z10 and Q10), BlackBerry has unveiled the Q5, a device with a physical QWERTY keyboard aimed at the midrange global market. But it's questionable whether that portfolio can make a dent in the enormous market-shares of Apple's iPhone and Google Android. If that wasn't difficult enough, BlackBerry faces competition from Microsoft's Windows Phone, which has become an all-or-nothing proposition for Nokia, and up-and-coming smartphone operating systems such as Firefox OS and Ubuntu for mobile devices. If that wasn't bad enough, BlackBerry may need to make further cuts to its programs and personnel. "The company will also continue to implement the cost savings and process-improving initiatives it started last year,"
read the Outlook section
of BlackBerry's earnings report, "in order to drive greater efficiency throughout the company." That could mean layoffs and cutbacks—a daunting proposition, even before one considers a possible selloff coming down the proverbial pike.
Image: BlackBerry