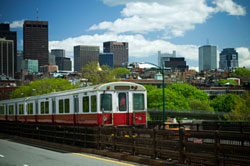 State Street Cuts 850 Tech Jobs:
State Street announced plans to cut 558 technology jobs in Massachusetts. The Boston-based financial services firm said it will eliminate 530 of the positions over the next 18 to 20 months, while another 320 employees will be transferred to IBM or Wipro. State Street calls the job cuts part of an "IT transformation." Late last year, the company unveiled a massive cost-cutting plan that envisioned eliminating 1,400 positions, including 400 in Massachusetts. The company's Bay State head count is about 12,600. Worldwide, the company employs 29,450 people.
Boston.com
Demandware Files $100 Million IPO:
Demandware, which provides cloud-based e-commerce products, has filed to raise up to a $100 million in an IPO. The Burlington company posted its first profit in five years in 2010. Backed by venture capital firms North Bridge and General Catalyst Partners, it had 75 customers as of March 31, 2011.
Reuters
Spark Capital VC Sees Boston's Shortcomings:
In an interview, Todd Dagres, co-founder and general partner of Spark Capital, said that while the majority of his business is with New York-based companies — 43 today — he also is working with a dozen companies in Silicon Valley and seven or eight in the Boston area. He says Boston falls short on collaboration and sense for the consumer.
Xconomy
Updates on Tech Firm Transitions:
Many area tech firms have been announcing sales, purchases or new funding. Some that caught our eye:
Waltham's dynaTrace Software was bought by Compuware for $256 million.
EnerNOC has bought Energy Response.
Allegro Diagnostics of Maynard added another $5.4 million to its Series A funding round.
TripAdvisor acquired a Chicago social-travel company called Where I've Been. Financial terms were not disclosed. Where I've Been's product team will join TripAdvisor. The Boston Globe
Boston is Eighth in Green Tech Jobs:
The Brookings Institution says that in terms of overall size, the clean economy in the Boston metropolitan area ranks eighth. Its 41,825 clean economy jobs make up 1.7 percent of all jobs in the region. On this measure of concentration, its clean economy ranks 52
nd
. Between 2003 and 2010 Boston added 7,793 clean jobs to see the sector grow by 3 percent annually.
The Brookings Institution