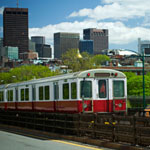 Rising Support of Getting Rid of Tough Non-Competes:
The Boston Globe's Scott Kirsner says forcing employees to sign stringent non-competes can stifle any city's tech sector. Because talented, smart and driven people have made Massachusetts such an innovative place, he argues, its citizens should be able to take their skills where they want, and start companies when they want. Dissolving the bands of non-compete agreements in the state would help startups grow and prod more established companies to be more competitive.
Boston.com
Boston Doesn't Want to Miss Another Facebook:
Did you know Boston VCs rejected Facebook when Mark Zuckerberg tried to get funding back in 2004? Michael Greeley, a general partner at Flybridge Capital Partners and board member of the National Venture Capital Association, says that since then Boston has "really rallied around 'how do you let these kids know that the state is open for business and a great place to start companies?' Sort of a post-Facebook echo boom effect. Zuckerberg should never have left." Greeley's firm has begun Stay in MA, one of several programs designed to entice young entrepreneurs to stay in the region. Boston, the birthplace of modern venture capitalism, accounted for 11 percent of U.S. venture investments last year, down from 15 percent in 2003, while Silicon Valley firms increased their share to 39 percent from 34 percent in the same period.
Bloomberg
Twitter's Biz Stone Joins a Boston VC Firm:
Twitter co-founder Christopher "Biz" Stone has joined Spark Capital as a strategic advisor. "I have been routinely blown away by Biz's creative instincts and understanding of the social web," said Spark general partner Bijan Sabet. Stone is a New England native who attended high school in Wellesley. As an advisor, he'll help the firm evaluate new investment opportunities.
The Wall Street Journal
Brightcove Moves to the Waterfront:
Brightcove, a provider of digital media products, is the latest company to relocate to Boston's waterfront. The 280-employee firm signed a deal to move from Cambridge into the new Atlantic Wharf complex, where it will hire 120 workers to fill out its new space. The company makes online video tools and applications for mobile devices. It will occupy two floors of a seven-story building.
The Boston Globe
Israel Looking for Boston VC Money:
Fifteen digital media, information technology and mobile startups from Israel will make their pitch to Boston investors this week. The Israel Innovation Road Trip is BootCamp Ventures' first U.S. event, following 14 similar ones in Israel, Turkey and Europe. The 15 pre-screened Israeli companies -- all seeking Series A financing -- will give 30-second elevator pitches and six-minute presentations to a panel of investors who'll then provide on-the-spot feedback. Panelists include representatives from Atlas Ventures, 406 Ventures, Sigma Partners, Spark Capital and Point Judith Capital.
The Boston Herald