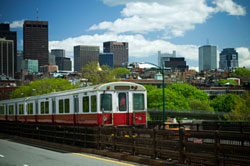 Startup Investing Slips in July:
The number of Massachusetts startup deals slowed in July from their torrid pace earlier in the year. Last month, 34 startups got $250.5 million in capital, down from $564.7 million across 38 financings in June, according to Funding Flash. However, July's startups raised almost twice as much this year as they did last July, when the total was $131 million in 26 deals.
Xconomy
How to Keep Tech Talent in Town:
Every year, Massachusetts hosts 470,000 college students, a third of whom come from other states or countries. Some 103,000 degrees and certificates are awarded annually. And yet, according to a report by the New England Public Policy Center at the Federal Reserve Bank of Boston, 50 percent of New England's college graduates leave to pursue jobs elsewhere. Jenny Floren, CEO of Experience.com, says the state needs to find ways to keep foreign graduates local and work to create a "coolness" vibe that's at least equal to Silicon Valley and New York.
Massachusetts High Tech
Social Media Tour Hits Hub Sept. 12:
The second annual GenJuice Tour will be in Boston on Sept. 12, featuring 120 entrepreneurs who'll get five minutes each to explain how they use social media and digital tools to build name recognition and marketing juice. As 22-year-old GenJuice co-founder and CEO Arielle Patrice Scott explains, "A lot of friends are very, very bright and they come from the best schools in the nation, but they don't know what I and my other friends know — that they need to network using social media."
The Boston Herald
Companies to Watch This Fall:
The Boston Globe's Scott Kirsner has listed 12 local tech companies he'll be watching this fall. Among them:
The Boston Globe
peerTransfer Picks Up $7.5 Million:
Boston-based startup peerTransfer, which helps international students save on hefty international transaction fees when they pay their tuition, has closed on $7.5 million in funding. Founded by a native of Spain, the company says it helps make college affordable for foreign students, who annually spend $1 billion in non-tuition fees to attend U.S. schools. Boston Seed Capital is one of the funders.
Portfolio.com
PowerInbox Moves to Cambridge:
PowerInbox, a Florida startup, is working out of new offices in Cambridge. The company's technology lets notification e-mails from outside sites like Groupon or Facebook be seen inside the body of an e-mail, instead of as a link.
Massachusetts High Tech