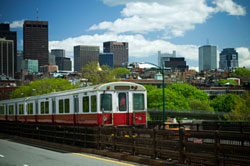 Boston Beats New York in Startup Money:
Boston's leading New York in more than just the AL standings. There's venture capital funding, too. During the first half of 2011, Hub companies drew in $1.9 billion, 30 percent more than startups in New York. This reverses the trend set last year, when New York benefited from more investment. VentureSource, which publishes the numbers, says the biotech industry here had a big second quarter. It's a welcome sign since recently some VCs had tempered their enthusiasm for Boston.
WNYC.org
Will More Green Tech Money Come to Massachusetts?
Executives from several local alternative energy firms traveled to Washington to meet other industry leaders and discuss challenges to the sector, including competition for financing. Among the concerns: the future of ARPA-E, a federal agency that has doled out hundreds of millions of dollars to advanced energy projects since 2009 -- tens of millions of it in Massachusetts. "One of the big challenges with the federal budget is whether ARPA-E is going to be funded,'' said Peter Rothstein, president of New England Clean Energy Council, a trade group in Boston.
Boston.com
E-Recycler Raises $22 Million
: Boston-based Gazelle, a website that lets individuals trade in electronics for cash, then resells or recycles them, raised $22 million in its fourth round of funding. The company has people mail in old electronics, appraises them, and pays a fee to the sender. Then it sells the products on sites like eBay and Amazon.
VentureBeat
Ksplice Is Bought By Oracle
: Cambridge startup Ksplice has been bought by Oracle for an undisclosed amount. Oracle says buying Ksplice gives it the "zero downtime" update technology for Linux that was a driving factor behind Ksplice's 2009 win of MIT's $100,000 entrepreneurship competition. The company's product allows for updates to computers Linux without having to do a reboot.
Massachusetts High Tech
CloudBees Opens Boston Office
: Software startup CloudBees,which is creating a platform to develop, run and manage Java-based cloud applications, is opening its first office in Boston. The company recently raised $10.5 million. and says the money will be used for product development and marketing and sales. The 27-person is opening a Boston office this week.
Xconomy
19-Year-Old CEO Raises $1.2 Million
: The Fundraise.com CEO, Nate Drouin, said his five-month-old company expects to raise some $1.2 million from investors next week. The website, a platform for online donations to charities, political campaigns and other causes, charges 7.5 percent fee on the amount raised. It expects to generate more than $2 million in revenue by the end of 2011.
Boston Business Journal