Despite continued job growth, layoffs are on the rise in the tech sector, according to global outplacement firm Challenger, Gray & Christmas. Industry job cuts more than doubled in the second quarter, to 20,491 positions eliminated, the company said. That compares to about 8,400 during the first three months of the year, and was the highest total since the second quarter of 2012, when tech firms cut 39,164 jobs.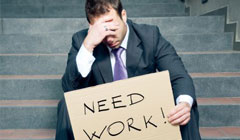 John A. Challenger, CEO of Challenger, Gray & Christmas, attributed the uptick to shifting trends within the overall tech industry. These trends "are making it necessary for companies to alter business strategies, streamline operations and restructure their organizations," he said. As an example, the report points to CA Technologies, which in January announced 1,200 cuts worldwide as it repositions itself for cloud computing, Big Data and delivering software as a service.
EMC
, which announced 1,000 cuts in May, is making similar shifts.
IBM
, too, is expected to
cut 8,000 jobs globally
after a disappointing first quarter.
Continuing Gains
Despite such cuts, Challenger says that professionals experienced in data analytics, cloud computing, systems architecture, information security and software engineering remain in high demand. Overall, the tech sector showed a
2.6 percent growth rate
for the past three months, according to data from the Bureau of Labor Statistics. In his review of the June employment report, analyst David Foote noted there were
18,200 new tech jobs
, 8,400 more than in May and representing the largest monthly increase since January. Foote spoke of hiring momentum, though – much like Challenger -- he said companies are "substantially refocusing their strategic targets and redefining what is core versus noncore as far as their investments in technology and people." Victor Janulaitis, CEO of Janco Associates, whose analysis generally takes a highly conservative bent, also noted growth in June, but added, "Based on our interviews with over 96 CIOs in the last 30 days, we concluded that CIOs are not in a great hurry to hire new staff except to meet short-term needs until they see a clear trend as to what is happening with the economy." Similarly, a survey from Robert Half Technology found that the percentage of
CIOs planning to expand their IT departments
in the third quarter dropped to 12 percent from 14 percent in the second quarter.