Amid predictions that the proposed immigration reform bill will end up
sending more tech operations offshore
, lost is the idea that the measure will force outsourcers to find new ways to maintain their competitive advantage, including more ways to work remotely and employ automation. That led
Gartner
analyst Frances Karamouzis to say in a recent webinar, "We do think that innovative approaches will come around."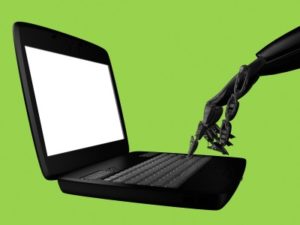 That's already happening at
Infosys
, which in April announced a partnership with New York-based
IPSoft
, a provider of automated IT tools and services – "robots." IPSoft isn't the only player in this robotic game, notes James Slaby, a research director at HfS Research in Boston. Though they haven't announced it, he suspects that other business process and IT outsourcers are already working on similar components, and plan to create libraries of process automation services that they can offer. It's not just immigration reform behind these strategies. Market conditions, also, are forcing outsourcers to provide more of the flexibility and innovation that client companies have been calling for all along, Slaby says.
Outsourcing Destination: 'Robotistan'
Last fall, HfS Research coined the term
"Robotistan"
with Slaby's research into the technology of Blue Prism, a provider of rules-based software that automates certain IT tasks. "[Robotistan] is just another outsourcing destination that's super cheap, that we'll never approach with human labor," explains Slaby. "So [the outsourcers are saying], 'Why not add that to our quiver?'" Slaby sees little threat to U.S. jobs from this software – it does mind-numblingly boring work that was automated or outsourced long ago. Running on a virtual machine in the data center, Blue Prism allows line-of-business folks to create their own software. That can alarm IT professionals, but the package does work they really wouldn't do anyway since it's too tactical, short-term, or would be too expensive for them to undertake. Blue Prism's best suited for rote, rules-based tasks with few exceptions. UK mobile operator O2, for instance, uses it to swap out customer SIM cards, customer migrations to new deals, unlocking phones and ad hoc changes to billing for large corporate customers. It requires Business Analysts and Process Modelers to carefully document each step in the process. Once they do, it spits out the necessary code. James Hall, managing director of back-office outsourcer GenFour, first encountered Blue Prism at UK BPO provider Capita. He put it this way in a "Tour of Robotistan" webinar: "If you're way down in the queue for IT enhancements or applications, or maybe you'd never make the cut, it's a good place to think of this as an approach." And it's cheap. While a U.S. technology worker may cost $80,000 a year and an offshore one perhaps $30,000, Blue Prism's robots cost $15,000 or less annually, Slaby says. One telecommunications company replaced 45 offshore employees, who cost $1.35 million a year, with 10 Blue Prism robots at a cost of $100,000. It used the savings to hire 12 new people at its headquarters to do more innovative work.
Infosys's 'Bold Move'
In his evaluation, Slaby said Blue Prism could be a threat to outsourcers and recommended that they partner with technology vendors to create new offerings. Apparently, Infosys was listening. Ovum analyst Tom Reuner has
called its plans
to train 5,000 workers on IPSoft's technology a "bold move." The company has said the new technology could reduce the cost of IT operations by 30 percent. "The financial headwinds facing Infosys are well documented," writes Reuner. "Therefore, the bold step of becoming a first mover with a concept that is yet to be proven on this scale is, in Ovum's view, a clear reaction to its challenging environment." While Blue Prism's technology requires those closest to the process to teach the robot how to accomplish its tasks, IPSoft's technology in effect "learns" from those actually doing the work as they access applications through the IPSoft portal. The technology is narrowly focused on IT service management functions such as service desk, application management, infrastructure management and identity and access management. "In contrast to [Blue Prism's] robotic software automation, [IPSoft's] autonomics presents an interesting application of artificial intelligence and natural language capabilities in new business contexts, in which machines can effectively learn to perform increasingly sophisticated operations without human intervention, functions that not long ago required human analysis, interpretation, perception and decision-making intelligence," Slaby wrote in a second report. It, too, he said, can be focused on time-consuming, repetitive tasks such as fault diagnostics, and reduce problem-resolution times. "My sense is that the outsourcers see this [automation] as a threat, but also an opportunity," said Slaby. At the same time, it solves another problem: They suffer a high churn rate among teams doing such boring work, and this turnover is expensive. A lot of people are keeping an eye on what happens with Infosys and IPSoft. Wrote Reuner: "Given that many competitors have been evaluating these concepts for some time, Ovum expects a raft of similar announcements or even M&A activity should Infosys' move prove to be successful."