[caption id="attachment_14077" align="aligncenter" width="618"]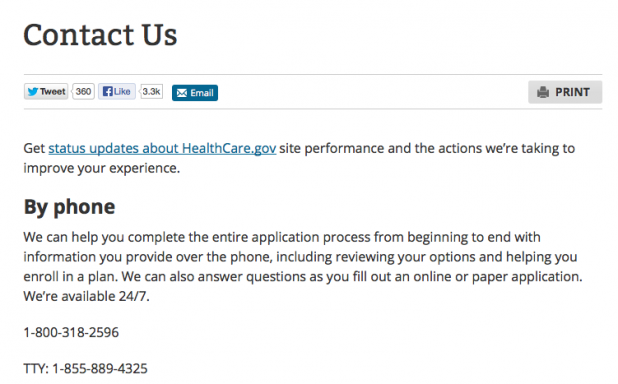 "At this point, just sign up by phone, m'kay?"[/caption] A new report in
The Washington Post
suggests that efforts to fix the troubled Healthcare.gov Website by the end of November—the Obama administration's longstanding target—are in danger of falling behind. An anonymous official "with knowledge of the project" told the newspaper that some of the system's problems are proving more difficult to eradicate than expected, with one federal contractor able to fix only 60 percent of the issues it's encountered. The insurance industry is apparently working on "contingency plans" to enroll new customers if the Website's difficulties continue into next month. As the online marketplace where Americans can purchase health insurance, Healthcare.gov is a crucial part of the Obama administration's Affordable Care Act. But in the six weeks since its Oct. 1 launch, the Website has become the victim of repeated glitches, including the inability to sign up for new accounts, although some of those problems have eased as the federal government "surges" more tech workers to fix the underlying infrastructure. While the Obama administration hasn't yet released "official" enrollment numbers,
The Wall Street Journal
estimated total signups so far at 40,000 to 50,000 people—well below what's needed if the program is to make its goal of 7 million new enrollees by March 2014. "The website is getting better each week, as we work to improve its performance, its stability, and its functionality," U.S. chief technology officer Todd Park said in Nov. 13 testimony before the House Oversight Committee,
according to The Verge
. "We have much work still to do, but are making progress at a growing rate." The debacle may have already cost some government employees their jobs.
Tony Trenkle
, Chief Information Officer (CIO) for Medicare and Medicaid Services (which oversees Healthcare.gov), has resigned effective Nov. 15. "Tony made a decision that he was going to move to the private sector," a Medicare spokesperson told reporters. Trenkle was widely considered a significant player in the Website's development:
The New York Times
indicated that he was one of two federal officials who signed an internal memo suggesting that security protocols for the Website weren't in place as recently as late September. Beyond some executives leaving, there's the broader question of which tech companies and federal contractors—if any—are to blame for the mess. In Congressional hearings and talk shows, representatives of various groups are doing their best to assign blame to anyone and everyone else.
A new USA Today analysis piece
seems to place much of the trouble on Oracle's identity software, a key element in the Website's technology chain; meanwhile, IT contractors have pointed accusatory fingers at the
tight deadlines and shifting requirements
that defined the project's development. Wherever the blame finally lands, though, one thing is clear: the crisis isn't over yet—and could possibly continue on for quite some time.
Image: Healthcare.gov