[caption id="attachment_10144" align="aligncenter" width="500"]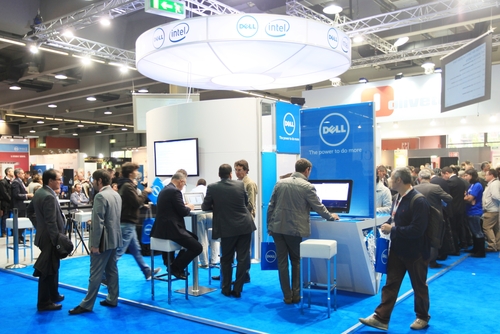 Expect Intel to kick off a hard marketing push behind its new processor portfolio.[/caption] Two years after first demonstrating it at a developer's forum, the first PCs running on Intel's newest, quad-core, low-power, high-graphics processor, "Haswell," debuted over the weekend. The chips are the fourth generation of Intel's Core line of multicore processors, succeeding the previous Ivy League generation by offering lower power requirements, less need for cooling and a new-and-improved graphics processor. While Intel promised to "Reinvent Mobility" with Haswell—a provocative slogan in a post-PC era when tablets and smartphones are catching up to traditional laptops and netbooks—all six of the Haswell chips announced Saturday are for desktop machines. The new graphics processor comes with a new chipset that isn't compatible with those of Sandy Bridge and Ivy Bridge processors but will work with Intel's upcoming Broadwell processors, expected to show up in 2014. TheLGA [Land Grid Array] 1150 socket graphics processor succeeds Socket 1155, the graphics engine in Sandy Bridge and Ivy Bridge. Intel's first models up to bat are six i5- and i7-series processors with four processors and the ability to run eight simultaneous threads. They range in speed from 2.3GHz to 3.4GHz and all include the LGA1150-enabled HD 4600 chipset. Editions of the chips rolling out later in the year will include i3 and i5-level products, some of which will be dual core rather than quad-core, according to Intel. While the range and variety of Haswell chips means there should be one appropriate for almost any type or price level of PC, it also creates a bewildering variety of chips, configurations and capabilities that are not always easy to categorize among the all-in-ones, desktops, laptops, ultrabooks and netbooks. Intel pitches the HD 4600 graphics chipset as twice as powerful as those that shipped with the previous generation of chips: "Comparable to [a] discrete GPU," according to one Intel marketing slide. The graphics chipsets will actually come in a series of increasingly powerful editions, beginning with the HD 4600 and 4400 before moving up to the HD 5000, followed by the Iris Grphics 5100 and Iris Pro 5200,
according to Techspot
. Asus, Cyberpower and MicroCenter announced all-in-one PCs, laptops and desktops running Haswell in a marketing event designed to raise some buzz just before the Computex trade show in Taipei this week. Haswell chips should require half or a third the power as an equivalent Ivy Bridge chip, according to Intel, while still running some of the most demanding games on the market (with the help of standalone video cards).
Image: Adriano Castelli/Shutterstock.com