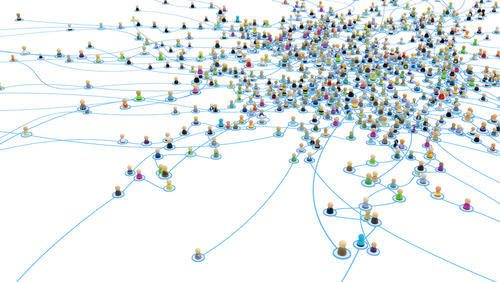 Not too long ago, Enterprise networks were predominantly used to connect employees, customers, students, patients and visitors to the Internet and local resources (local applications, printers, etc.). Most of the applications used were relatively common and simple—Web browsers, Word, PowerPoint, email and other local applications. The data network was important, but not as critical as the phone system. A loss of network connectivity was a major inconvenience, but did not bring the business down, as users were still able to use their local applications and completed most of their work on their desktops and laptops.
Networks of Today
Today, the performance and integrity of the network can make or break a business and the users it serves. Enterprises are no longer limited by wires, corporate-issued desktops and laptops, location, time or even national borders. Today's enterprise network is frequently accessed via Wi-Fi, typically by employees' multiple non-enterprise owned devices (smaller laptops, tablets and smartphones). Users are also downloading and using applications, in addition to accessing hundreds of millions of Web sites and cloud-based services with multi-media voice, data and video content. In turn, these users are capturing, sending and downloading a vast volume and variety of content to remote servers into and from the cloud at an incredible velocity. In some cases, these new applications can become business-critical over night.
Challenges of Today's Networks
User productivity and satisfaction are directly proportional to application performance, availability, and ease-of-use of these applications. Businesses have a responsibility to provide users, partners, and customers with continuous, secure and high-quality accessibility to these critical applications, as latency, inaccessibility, and downtime are unacceptable in the application-driven world. The flexibility and agility of the new application world, boosted by BYOD, creates a new set of challenges for IT and businesses. The dynamic nature of private cloud data centers that utilize software oriented architectures (SOA) and virtualization makes it difficult to identify applications and provide appropriate services at a large scale with high throughput. With 80 percent of the traffic on those data centers remaining in the data center, the transport from private and public cloud data centers for those applications is encapsulated within an http and/or https connection (web traffic), resulting in a total lack of visibility and control for the mobile user.
The Need for Application Visibility and Control
These challenges drive the need for a pervasive application visibility and control architecture using Deep Packet Inspection (DPI) technologies. Many solutions currently on the market, such as Network and Application Performance Management (NPM, APM) solutions, may offer visibility into the application, but are limited because they cannot provide certain information, such as application vs. network response time, and are unable to provide control over the application. Solutions like next generation firewalls, WAN accelerators, application delivery controllers and Wi-Fi specific solutions rely on funneling large amounts of traffic from across the network through a single appliance (
choke points)
to overcome the scalability and/or cost challenges that are typically associated with DPI in the enterprise IT infrastructure. These solutions also tend to focus exclusively on IT operations.
How IT Can Transform Today's Businesses
Beyond IT operations, this evolution also impacts decisions at a fundamental business level. The increasing debate around the shift of technology budgets from IT to other Lines of Business (LoB) that are now directly dealing with application cloud providers may give the impression that IT and the network is becoming less critical. This is far from the truth, as many CIOs have started to shift the bulk of their IT budgets from "keeping the lights on" to providing applications intelligence and business analytics aimed at growing the business. Moreover, successful CIOs recognize the sheer complexity and technical sophistication of business has shifted the equation from the information economy to the innovation economy. Businesses will die or thrive based on how quickly they gather business intelligence and respond to change. As a result, IT networks must become more strategic, not only as the infrastructure that connects always-on users and devices to the network, but also as a medium that should capture application usage so it can be analyzed for better business decisions. The ability to capture and analyze data and apply context-based visibility and control into actionable information will differentiate businesses, by increasing insight into their users' usage and behavior, which will ultimately increase their market share.
Optimized IT Operations
Imagine a user friendly GUI solution that proactively and automatically monitors resource utilization and capacity management for all applications, users and devices, easily enabling the IT organization to ensure business critical applications/users (such as VoIP, call center, blackboard, online testing, etc.) have enough bandwidth and network resources without over-provisioning. Imagine if the same tool could also
proactively monitor application and network
performance, enabling IT to easily determine if a user's application is slow because of a network or an application response time issue.
Business Analytics
Now imagine that in addition to several "optimized IT operations benefits," IT could also provide the following "business analytics" benefits:
Investment usage and ROI – By being able to see which groups of people are using specific applications, an organization can quickly determine how much of their investment is paying off and who is benefiting the most. For example, universities can see how often Blackboard is being used in the classroom, dorms and other campus locations, in addition to viewing user and device information
Best practice, mentoring and coaching – Recognize star performance employees or students, and view which applications these individuals are using, in order to help others improve their productivity.
Revenue source – A university, for example, can control which local merchants' ads appear when students access Websites, and receive payment in return for student purchases. A stadium could also use this feature to promote specific items or events when users access certain websites, and a mall could also advertise coupons when users check online prices on Amazon.com.
In Conclusion
In my opinion, the IT organization is not going away—it is transitioning from "keeping the lights on" to providing application intelligence and business analytics aimed at growing the business. Intelligent CIOs at major universities around the country are helping their institutions improve student learning, retention and recruitment. Innovative CIOs of for-profit businesses understand it is now their responsibility to not only conserve IT budgets by doing more with less, but to also collect intelligence around their customers and users. Having the ability to observe buying and usage behavior will allow businesses to gather useful analytics that will set them apart and enhance their organizations.
Markus Nispel is the Chief Technology Strategist for Enterasys. Working closely with key customers, his focus is on strategic product development across all key technology areas for Enterasys, and especially in the area of security, namely Enterasys Network Access Control (NAC) solutions.
Image: higyou/Shutterstock.com