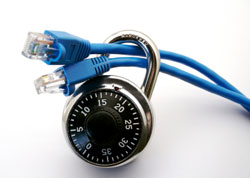 Problem: The Federal government doesn't have enough cybersleuths. Solution: Have a contest to find more. ComputerWorld reports a consortium including the Department of Defense Cyber Crime Center, the Center for Strategic and International Studies, the Air Force Association and the SANS Institute is looking for students with strong computer skills to be trained as "cybersecurity guardians, warriors and 'top guns.'" Right now the Department of Defense hires only 80 cybersecurity professionals annually - not nearly enough to combat the millions of hack attacks that inundate the Pentagon every year.
So here comes the U.S. Cyber Challenge, a series of cybersecurity competitions for high school or college students, along with scholarship opportunities. "One of the goals of the initiative will be to promote cybersecurity careers as 'cool,'" says ComputerWorld. (In fact, two of the competitions will be in video game format.)
This initiative proves what we've pointed out before: Cybersecurity is one of the hottest fields in IT right now. If you have the right certifications you should be in good shape. If you're looking to take a new path, security could be a smart way to go since both the private and public sectors demand lots more lockdown as hackers, crackers, scammers, and e-criminals become more aggressive than ever.
-- Don Willmott