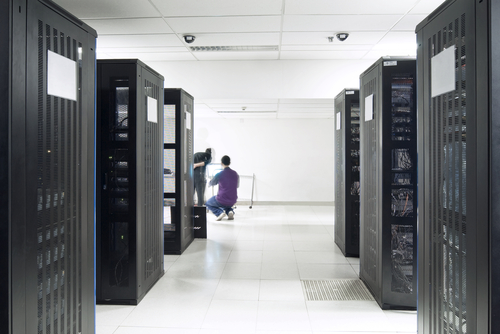 Data-center operator Digital Realty reports that per-square-foot rental rates remained roughly in the middle range of rates it had charged for the previous few quarters—a hint of price stability that could benefit data-center customers. A trio of data center operators reported profitable quarters July 25, and all three—Digital Realty, Equinix, and Dupont Fabros—reported plans to expand their facilities. Equinix, for its part, said it plans to open a new $20 million facility in Rio de Janeiro, expanding from 320 cabinets to 1,170 cabinets once the buildout is complete. Digital Realty also announced its intent to expand into several European capitals, as well as push further into the fragmented Asian market. Those suggestions of price stability and increased demand could prove advantageous to both clients and vendors in the quarters ahead. Below, we've included a snapshot of each company's results and plans.
Equinix
Equinix, a retail player, reported recurring revenues (consisting primarily of colocation, interconnection and managed services) of $442.6 million for the second quarter, a 3 percent increase over the previous quarter and an 18 percent increase over the same quarter last year. In addition to the Rio plans, Equinix said that its ALOG business will begin construction on phase two of its SP2 data center in São Paulo, with expected availability in early 2013. SP2 phase two will have space for an additional 350 cabinets and is expected to cost $14 million in expansion capital. "In the second half of this year, we will open several flagship data centers, providing additional inventory in key markets to satisfy our growing deal funnel and support the growth of our ecosystem," Stephen Smith, the company's chief executive,
told
analysts. "In Europe, we will open Amsterdam 3 located in the Amsterdam Science Park, one of the most carrier-dense locations in Europe, as well as Paris 4, which will be tailored to our highly networked Paris campus." The company also has two important domestic projects on the books. "In the U.S., we have 2 important new builds: NY5, which is located next to NY4, will provide critical inventory for the financial ecosystem," Smith added. "And Miami 3, located in Boca Raton, near several major fiber-optic cable landing stations in the lowest latency route to Brazil. These new data centers are in addition to the phased builds we will be opening in existing sites across all 3 regions." In terms of revenue, cloud/IT services generated 26 percent of the company's bookings, followed closely by networking companies at about 25 percent. Financial services and digital media both represented about 18 percent of bookings, followed by enterprise, at 13 percent. "With all the network stuff going on, they're upgrading their networks and their infrastructure, we're winning service aggregation nodes," Smith said of the network market.
Digital Realty
Digital Realty reported total operating revenues of $303.7 million in the quarter, up 13.4 percent from a year ago, with net income climbing 15.2 percent to $87.5 million. DR worried analysts, however, because its funding from operations (FFO), a non-GAAP measurement, slowed as more cautious enterprises took more time to negotiate leases than cloud providers and more nimble smaller companies. In all, DR signed new leases totaling approximately 210,000 square feet, and the company renewed 72 percent of its expiring Turn-Key datacenter space, with an average lease term of 88 months. The average GAAP rental rate per square foot in the U.S. was approximately $149, chief executive Michael Foust reported. Average rental rates ranged from a low of $122 per square foot in the third quarter of 2011 to a high of $176 per square foot in the second quarter of 2011. However, the average rent per square foot of renewals was $154, a 9.9 percent increase over the older rates. Foust said that the most active U.S. markets are Boston and the New York metro area, with San Francisco as the most important market of all. New customers typically purchase 1 to 2 megawatts of power to start. Foust also eyed further European expansion: "Certainly in our minds, right now, London and Amsterdam, and to some extent, Dublin, because of all the international companies, many U.S. companies in Dublin are interesting places for data center." London is the largest potential market, he added, followed by Amsterdam and Dublin: "We're going to take a little bit slower tact on that market to see how things progress economically over the second half of the year, but Paris is a nice market, because there is a lot corporate entities, including financials, but not necessarily financials that make up the typical marketplace there."
Dupont Fabros
Dupont Fabros reported a 17 percent increase in revenues, although FFO dipped from 42 cents per share to 37 cents per share (the company cited higher fixed costs). "We are pleased with our performance to date this year," Hossein Fateh, the company's chief executive, said in a statement. "We remain focused on the lease-up of our available inventory and continue to see good demand for our wholesale locations. We remain on time and on budget to deliver our latest development, ACC6 (the company's latest data center in Virginia) Phase II which is 67% pre-leased, by the end of this calendar year."
Image: 06photo/Shutterstock.com