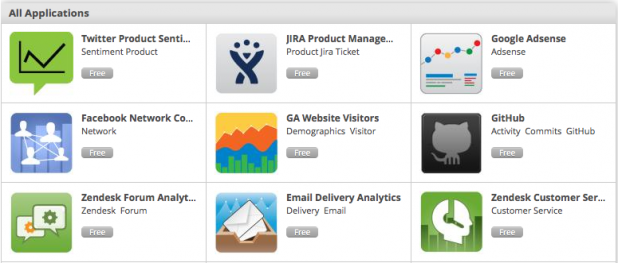 Given the popularity of Apple's App Store and Google Play, it was inevitable that IT vendors would start to develop emporiums for business apps. After all, every business has its own software needs; and a worker who can download their own apps for crunching data is an empowered one. Larger IT vendors such as SAP and Salesforce have moved into that space with their own app platforms. Now more analytics firms are taking an interest: Datameer, for instance, has introduced
Datameer Analytic Applications Market
, a repository for end-user analytic applications. "Our customers have analyzed well over 80 petabytes of data in the past year alone, and despite them being in very different markets, one thing we've noticed is that there are a lot of common analytic use cases amongst them," Stefan Groschupf, CEO of Datameer, wrote in an Oct. 22 statement. Datameer's hub gives end users the ability to download apps created by data scientists and "subject matter experts." In theory, that's profitable for the latter and spares the former from having to develop analytic applications in-house. A number of the applications are also free, including ones for visualization and sentiment analysis. Datameer has also updated its eponymous platform to version 2.1,
some five months after releasing Datameer 2.0
. The platform, which is capable of dynamic data management and self-service analytics, features Apache Hadoop embedded in two of the three available editions. Version 2.1 includes new visualizations and productivity features, as well as data integration with services such as Facebook, LinkedIn and Salesforce. (It's also needed to publish apps to Datameer's app market.) Multiple surveys over the past year have hinted at a growing need for more workers skilled in data analytics. For example, a recent survey by consultancy firm NewVantage Partners found that, while 85 percent of executives and government leaders had some sort of "Big Data" plan in progress, many of them admitted a lack of talent and resources to drive those initiatives. Around 70 percent said they planned to hire data scientists, but had some trouble finding suitable talent. "Based on our survey findings, we believe that most organizations seek more thoughtful strategies as well as the right talent and organizational structure to fulfill the promise and potential of Big Data," Paul Barth, co-founder and managing partner of NewVantage Partners, wrote in a statement accompanying those results. "Thus far, many of them are still working hard to develop the requisite skills, processes and systems to create coherent, productive data strategies." Could analytics-app stores help ease some of that burden?
Image: Datameer