[caption id="attachment_4622" align="aligncenter" width="618"]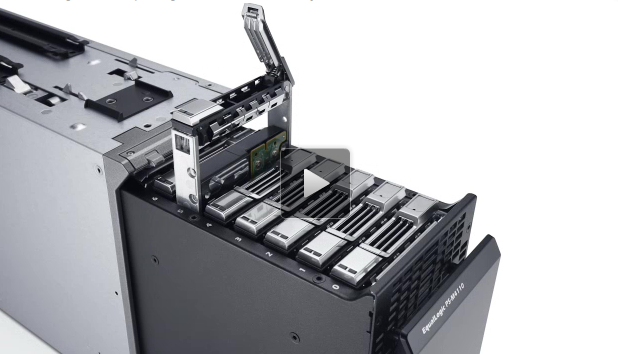 A screenshot from a Dell video showing off the PS-M4110 blade array.[/caption] Dell announced Sept. 20 that it has begun shipping its first EqualLogic storage blade arrays, giving its customers the ability to put storage as well as computing inside a blade form factor.
Dell also commissioned a study
by Forrester Research that shows, not surprisingly, that IT managers seek to reduce complexity in their storage systems; moreover, some 95 percent of surveyed customers said they found value in sourcing all of their solutions from a single vendor. However, despite that high percentage, only 42 percent actually did so. The first product to ship is the
PS-M4110 blade array
, which comes in four configurations: the M4110E, M4110X, M4110XV, and M4110XS. All of them use 14 hot-pluggable 2.5-inch hard disk drives—save for the XS, which combines 9 10,000-RPM SAS drives with 5 SSDs. Storage capacities range from 7 to 14 terabytes, with the M4110E offering the greatest breadth while using the slowest 7,200-RPM SAS drives. The other models step up in terms of the drives' spindle speed, to 10K and 15K for the M4110X and M4110XV. You'll have to call Dell for pricing, though. The blade arrays have been targeted for use within a traditional storage area network, with an eye toward consolidating storage in Exchange, SQL database and Sharepoint environments.
Dell announced the storage blades in June
, claiming that they'd achieve 4,690 I/Os per second (IOPS) in a SQL transactional workload. All of the PS-M4110 family includes two 10GbE network interfaces, with one dedicated management port accessible through the Chassis Management Controller. The M4110E, M4110X, and M4110XV all include a 1 or 2 hot-swappable controller option, with 2GB of usable memory (4GB of total memory) per controller and cache to flash for data protection. The XS contains two storage controllers, period. The family supports Up to 256 volumes per array and up to 512 for a blade array-only group, with 128 snapshots per volume and 2,048 per blade array group. RAID 6, RAID 10, and RAID 50 are supported on the M4110E, M4110X, and M4110XV, while only RAID 6 Accelerated is supported on the M4110XS. In total, the arrays can scale outside the blade chassis to more than two petabytes of storage in a single group. The blade arrays combine with Dell 11th or 12th generation Dell PowerEdge blade servers and Dell Force10 or PowerConnect networking. EqualLogic set-up and deployment capabilities have been integrated with the blade chassis management console, enabling multiple EqualLogic Blade Arrays to be configured in less than 20 minutes, Dell said. "These research findings are in lock step with what our customers have been telling us and are a fundamental reason why Dell is focused on delivering all of the benefits of enterprise class storage without users needing a doctorate degree in storage to master our solutions," Darren Thomas, vice president and general manager of Dell Storage, wrote in a statement. The Forrester survey recommended that users consider data migration costs as well as the impact of data protection when sourcing a storage solution, and prioritize features that make it easy to grow over time. The analyst firm also pushed customers to emphasize automatic tiering of data: "Storage systems with automated tiering allow users to let the system determine the optimal media for data workloads; over time, it will allow data to gravitate toward the media choice that best fits its actual needs."
Image: Dell