Edwin Meredith is one Denver's lucky IT professionals. After being laid off for six months, he's held a project manager's job at a data center outsourcing company for more than a year. Still, he characterizes the job market in the Denver area as weak.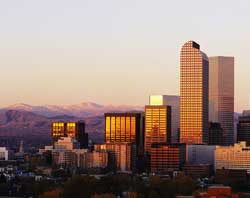 "It's a very, very tight market right now. It's improving but it's tight," he says. "I see (job listings) for technical positions like systems administrators or developers, but the market for senior positions is tight."
The number of feet walking the streets looking for IT work soon may increase. Oracle is reportedly days away from sealing its acquisition with Sun Microsystems, says The Wall Street Journal. That's not particularly good news for many IT workers in Colordao's storage industry. Oracle has a tradition of cutting jobs after a takeover. It cut thousands of jobs in its acquisitions of PeopleSoft and Siebel Systems.
Despite all that, recruiters in the area see a trend similar to that of other cities: An uptick in clients submitting job requirements. However, it's an uptick, not a wave. Some recruiters see companies looking for IT workers who can create cost-efficiencies, while others say clients are seeking hire project managers and business analysts, a sign they're gearing up to begin development efforts.
Toni Fleming, a recruiter with Manpower Professional, has seen an increase in orders for contract workers, but a decrease in searches for full-timers. "All the jobs I see companies creating are geared toward creating organizational efficiencies," says Fleming. The skills her clients seek include development in SharePoint and .NET, network engineers, helpdesk support, and non-traditional jobs such as designers who specialize in Web-based training applications.
Brian Taylor, a managing director with Technisource, reports an increase in job orders for Java Weblogic, project managers and business analysts. Much of his business is coming from the telecommunications and healthcare industries. "I would say the end of the year was slow," observes Taylor. "We had 20 percent fewer hot job requirements in December compared to November. But in January, we doubled the number of job requirements compared to November."
George Denlinger, regional vice president in Robert Half Technology's Denver office, also has seen an increase in job orders. "We saw sequential month-over-month growth in November and December," he says. "We hadn't seen sequential, month-over-month growth for the entire year."
Denlinger saw more demand for quality assurance specialists in the fourth quarter. Like those of other recruiters, his clients seek contract workers first and foremost, with some demand in contract-to-permanent. "Requests for full-time workers have been squishy," he says. "But we're seeing a natural progression coming out of the downturn."
On Dice, Denver job listings showed roughly a 10 percent year-over-year decrease, with 1,010 jobs posted in December 2009 compared to 1,122 jobs posted in December 2008.
According to Colorado's Department of Labor and Unemployment, during November employment in the state's professional and business services sector dropped by 1,000 jobs. There was little to no change in information, financial activities, other services and government. Trade, transportation and utilities added 5,400 jobs, driven by seasonal gains in retail trade. Education and health services increased 1,300 and mining and logging added 200.
-- By Sonia R. Lelii